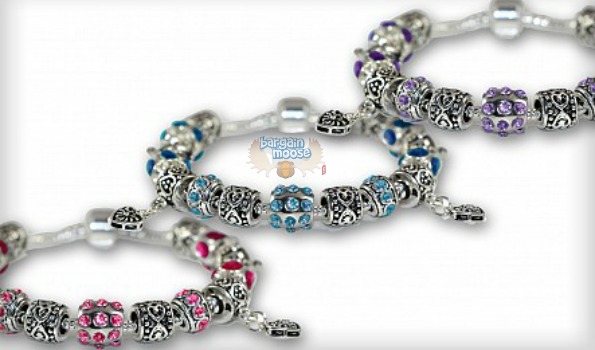 Wag Jag has also started thinking about what the mothers of Canada really want and my belief is that you can never, ever go wrong with jewellery. Get this Pandora-inspired charm bracelet for 61% off, with three options to choose from.
Before writing this post, I searched high and low for online retailers with deals on Pandora jewellery. I came up with nothing. My Mom loves Pandora, but she also loves charm bracelets in general and I know she would not be offended to get a bracelet like the ones in this deal. I am a true believer in not following the trends and that things don't have to be name brand. These bracelets are stunning and will be special for whoever gets them.
Choose from:
$26 for one Pandora-inspired bracelet with 15 Murano glass crystal charms (a $59 value)
$49 for two Pandora-inspired bracelets with 15 Murano glass crystal charms (a $118 value)
$69 for three Pandora-inspired bracelets with 15 Murano glass crystal charms (a $177 value)
I think the three bracelets are a great deal, if again, you have three different people to shop for this Mother's Day (like your mom, wife, mother-in-law, or even yourself). You could also get three  bracelets for one person as the look right now is to stack your jewellery. You can't choose the colour of your bracelets, but if you do order three, you won't get three of the same colour.
Starlite Accessories provides these bracelets and has made them with high-quality materials, like a .925 silver overlay and Murano glass crystals. The secure locking clasp means she won't lose the bracelet.
Simply order your voucher (which effectively orders the bracelet) and it will be shipped to you (for free!) four to five weeks after the deal closes. You may buy as many vouchers as you'd like.
(Expiry: 19th April 2013)