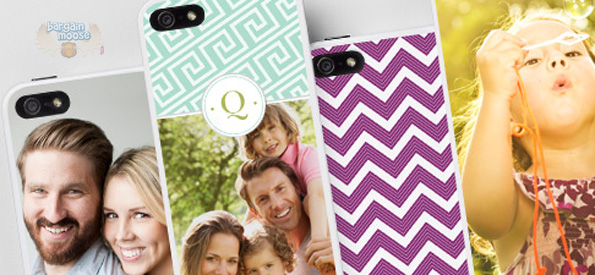 Got an iPhone 4/4S or 5/5S? Then get 50% off a customized phone case at Vistaprint now! Instead of starting at $20, you can get one from $9.99.
Customize your very own iPhone case @ Vistaprint now
Coupon Code: VPCASE25
Discount: 50% off iPhone case (+ 15% off site wide)
Expiry: Unknown
With Father's Day right around the corner, if your Dad has an iPhone, then this would be a great opportunity to make him his very own customized phone case. My suggestion would be to make it of a picture of the two of you together! Of course, you could just use Vistaprint's promotion to make yourself a cool case just the way you like it but that's just not as fun. :P
A couple of weeks ago, I set out to get a new case for my iPhone and I have to admit that it proved challenging because although I had a clear idea of what I wanted (a chevron patterned one), I just couldn't find any to my liking and I didn't find all that many options. With Vistaprint's promotion, I could have designed my own case exactly the way I wanted and for much cheaper as I ended up paying $15 for a clear soft-plex case.
Although the price will depend on the amount of customizations you add to the phone case, you can expect to see the following base prices:
Lightweight phone case: was $20/ now from $9.99
Protective phone case: was $30/ now from $22.49
While the lightweight is thin and only provides coverage along the length of the phone (none on top or at the bottom), the protective version offers all around protection and extra durability with a shock absorber. Considering the number of time I have dropped my phone, I would definitely advise for the protective one as you never know when it will unintentionally slip out of your hands!
At checkout, you can also take advantage of a "the more you buy, the more you save" promotion by getting multiples of the same phone case at an increasingly better price per case.Since shipping is at a flat rate of $7.99 per order, I would suggest ordering a couple of cases either for yourself or for the family to make it even more worthwhile.
The Vistaprint coupon code above may also be used to get 15% off site wide on items like business cards, customized photo products and much more.
(Expiry: Unknown)