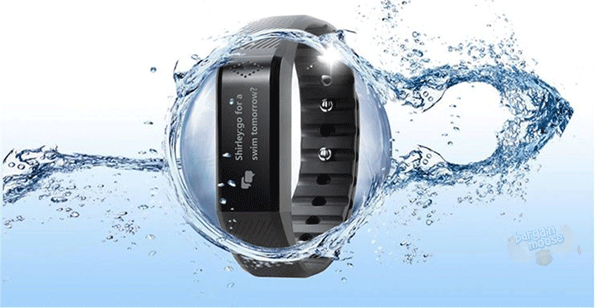 Geekbuying is a China based site which ships to Canada, and sells nifty gadgets for tech addicts. We've mentioned them here on Bargainmoose in the past, and we've just spotted another little deal which I wanted to let you know about. The full title of the item in question is this: the black Vidonn X6 IP65 0.88" Bluetooth V4.0 Smart Watch Wristband Bracelet Sport Sleep Monitor Notification. It was previously priced at $61.78, but you can get it for only $30.32 just now, and that's with free Canadian shipping too.
I checked for extra Geek Buying coupon codes to try and get a further discount on the above item, but all coupon codes didn't work on this as it is already discounted. However, if anyone has a Geek Buying account, sometimes they email you unique coupon codes - you could always check your own personal account to see if you've got a coupon code for an extra discount.
The Vidonn smart wristband has a ton of features which you can use, from checking caller ID to getting Twitter notifications, as well as telling the time, of course. Here's a video which shows you a bit more about it:
This is a budget version of the higher-end wristbands that we sometimes write about, such as the Garmin Vivofit or the Fitbit Flex. However, you're usually looking at around $80 or more for these devices, so you can see the price difference with the budget models. If you don't have $80 to $100 to throw away on one of these but still want a smart wristband, then this could be a good starting option.
When I was googling for images of the smart wrist band, I found the above image which was used to illustrate the product. I then went back to the item listing just to make sure, but this Vidonn X6 IP65 wristband IS waterproof too. And it is! Apparently the "ultrasonic technology joint melting" helps with this!?
Checking Out
Geek Buying is Paypal only, so you will need a Paypal account to order the above smart wristband. This is good too, as you have extra guarantees with Paypal. But you shouldn't be concerned, Geek buying has been around for years and they are a reputable company.
Shipping?
Shipping is a little slow from Geek Buying, you won't get next day delivery on this item. The site states that it will be 15 to 30 days to get it to you. So if you don't mind the wait, it's a good deal to grab.
Customs and Duties?
As most of us already know, if you're ordering an item from outside Canada, anything over $20 may be subject to additional fees. This is true of any order on Geekbuying, so you may be subject to additional fees at your door if you order the above wristband. However, in the Geek Buying FAQs, they state:
Please let us know if you have any special packing or labelling instructions when placing your order.
I'd recommend putting a note on your order that this is a gift item, as gift orders into Canada have a $60 limit. It may help get your package through customs without a hitch. :)
(Expires: 31st May 2015)