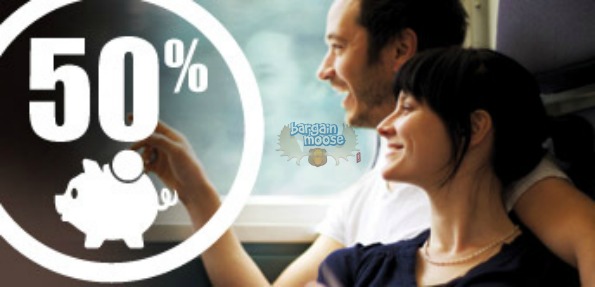 VIA Rail is offering 50% off adult regular fares for anywhere Via Rail travels!
This offer applies to travel across Canada between 23rd January and 31st May, 2012.
Tickets must be purchased at least three (3) days prior to departure, but no later than January 26, 2012. The number of seats and sleepers is limited. The 50% discount applies to the adult high reason regular fare.
To receive the 50% discount, you must book in Economy – supersaver fare, Sleeper – discounted fare or Sleeper Plus – discounted fare. There is no coupon code needed, the discount will be shown automatically if the trip meets all the conditions of this promo.
This is a great sale for anyone who is planning a trip this winter and spring and doesn't want to drive or shell out the big bucks to fly. My sister recently took the bus out to visit me and we sent her back on Via Rail. She definitely had a much more enjoyable and cheaper trip home. She said there was lots of space to move around and the free Wi-fi is a bonus too!
Expires: 26th January, 2012.