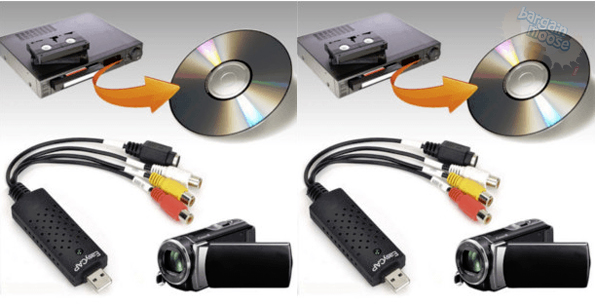 Do you have any old home movies on VHS gathering dust in a cupboard somewhere? I think this could be the case for quite a few Moosers, if you're anything like me. If so, you might have considered getting those VHS movies converted to DVD or digital files, so that you can watch them now and in the future. I've found a deal that will help you on that quest – it's an offer on a VHS to DVD conversion kit. Usually this type of kit is around $70 to buy, but you can actually get this one for only $14 with free shipping @ nCrowd.ca!
When you click through on the above link, you will see that the price on the VHS to DVD kit is currently $19. However, there are a number of nCrowd coupon codes here which you might want to use with this order, the best of which is free5 for a $5 discount. This brings the final price down to only $14 with free shipping which is a really nice deal.
Before I started this post, I actually saw that this was a popular offer here on Tuango, where the kit was going for $22 PLUS shipping. However, when I started price comparing and discovered the above offer from nCrowd was even cheaper… and then found the additional $5 coupon code, I thought that I really must share this with you guys!
In the nCrowd deal, you get the following items:
Video adapter
CD-ROM & software
USB cable
User manual
From the looks of it, you will need to have an old-style VCR on which to actually play the tapes, during the conversion process. If you only have the tapes and not the actual VCR, then you'd need to maybe find out if any friends or family have a VCR which you could use this with.
For me, I've got a VHS tape here which is around 30 years old. It contains some old, grainy footage of me when I was around 4 years old, and my little sister, playing in our yard. It's the only tape I have of myself when I was young. I haven't watched it in a few years because we don't actually have a VCR any more! I really, really must get it converted to have it for the future. Do you have any tapes you need to convert?
(Expiry: Unknown)