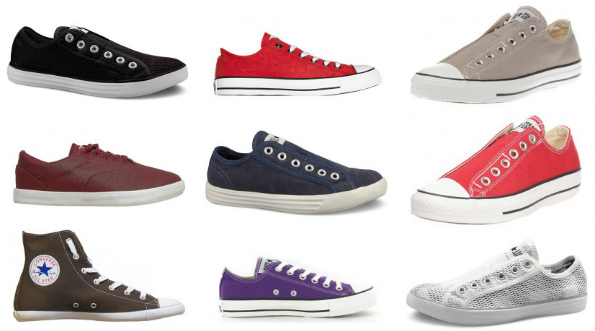 Note: Union Jack Boots appears to have hiked all the prices back up
Holy Converse Batman! Union Jack Boots has a huge sale on right now and they are selling a bunch of awesome Converse sneakers that were $54.99 too $69.99 on sale for just $9.99! There are a variety of styles and sizes in stock right now but these won't last long.
Let us hop right into the discounts. This Chuck Taylor All Star Light Hi is the best discount as these shoes were $69.99 and are now only $9.99. Hi-top Converse shoes are super popular and these are a great score if they are in stock in your size. Four sizes are still in stock and make sure to consult the size chart if you have any difficulties picking out your size. Sometimes Converse uses unisex sizing and sometimes they use M/W and sometimes they use UK/US - pay attention!
This Chuck Taylor Canvas Slip On and this Chuck Taylor All Star Seasonal Canvas Ox are also fantastic scores. Originally $69.99 each, they are on sale for $9.99. These round out the highest level of discounts yet there are still plenty more shoes to check out. If you can't find your size in one style - just check out another.
The Cons CVO LS Ox by Converse is next in our line-up of super cheap shoes. Originally $64.99, these fancier sneakers are on sale for just $9.99. These are sort of like a cross between an Oxford loafer and a sneaker.
Next, we have the Chuck Taylor All Star Seasonal Canvas Ox in purple. I think these are my favourite shoes but they are sold out in my size *sad*. Originally $59.99, they are on sale for $9.99. The Chuck Taylor Canvas Slip On is also a great buy and there are still four sizes in stock. Originally $59.99, this shoe is on sale for $9.99.
The Converse Chuckit Mesh Slip in white and in black are what have caught my eyes - mostly because they are Converse, an amazing price, and in stock in my size. Originally $54.99, they are just $9.99 per pair. Both have three sizes in stock.
Lastly, we have the Chuckit Slip (navy)on sale from $54.99 down to $9.99 and the Chuckit Slip (white) on sale from $49.99 down to $9.99. Both are fantastic buys and the white has many sizes left in stock.
I am delighted by this sale as I am in the market for a brand new pair of shoes. I want something simple - a slip on - for checking the mail and taking out the garbage and occasionally running to the store. Union Jack Boots offers free shipping on $75 or more. Under that, there is a $15 flat rate.
(Expiry: Unknown)