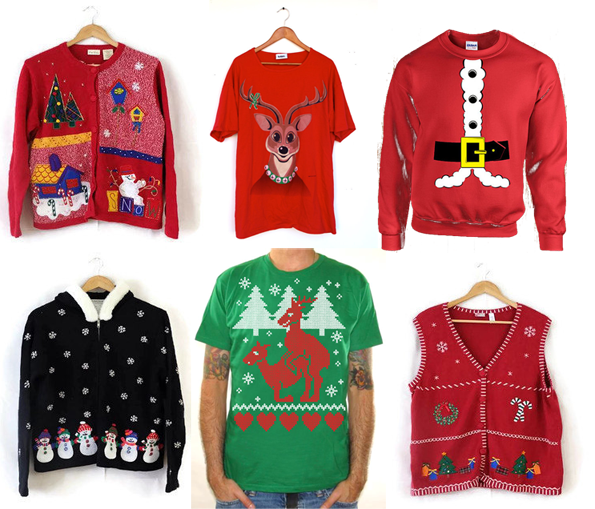 Ugly Christmas sweaters are becoming very trendy – and they're really not classed as ugly any more. In fact, the MORE ugly they are, the better! Over on Etsy, there are quite a few pieces of Christmas themed clothing to choose from, with prices starting at around $7!!
The link above will take you to a search page – I am showing you only sellers shipping from within Canada. You can change the search terms to show sellers all over the world and you will get more of a choice. However you'd then have to take into account a few things, such as higher shipping fees plus potential customs. For all those items on the above link, the price at checkout will show you the shipping cost, and then that's all you have to pay.
There are items for both kids and adults, you can have a browse to see those you like best.
There are a few different pieces of clothing to choose from and my headliner mentions a ~$7 item. That refers to this Christmas Reindeer Shirt/Nighty which is priced at $6.83 plus shipping.
One of my favourite items is this Ugly Christmas red round neck cotton cardigan which is $21.84 plus shipping. It's SOOOOO tacky! I love it to pieces! It's pictured at the top left – don't you just love it too? I bet there wouldn't be many people in your neighbourhood wearing this one.
For the kids, an example would be this ugly Christmas fairisle cardiganwhich is $30+ shipping.
For some of the items you can see, they are unique and there may only be one available of it – even the ones I have mentioned above. Order now so you have it in time for the start of December – that's when I start wearing my Christmas sweaters!
And as I mentioned above, the prices shown don't include shipping. Shipping costs and policies vary from seller to seller, so you'll have to check out each individual one. If you're ordering multiple items, it might be best to try and order them all from one seller, to reduce the overall shipping fees.
By the way, Etsy has a holiday hub here, which you can check out if you want to see unique and original gift ideas. :)