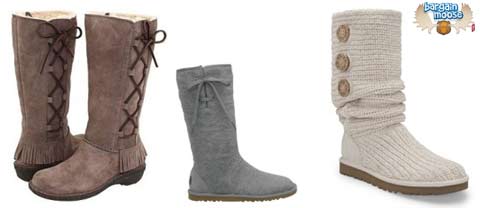 Bargainmooser Zahid dropped me a line about some deals available from BC based liquidators, Pricematters.ca. It's the first time I've heard of this store, but the deals appear to be very good indeed. Zahid pointed out the deal on the popular Ugg boots in particular - they are 40% off!
This is a great price for Uggs. They're such a popular brand that they usually command high prices in all the shoe stores.
The cardi boots in cream/gold are one of my favourites from the selection there - I've pictured them to the top right. They're $79.99. But I also like the Desoto Cement boots pictured top left,  for $79.99 too. Not sure about the little frills on them though. And these ladies drawstring gray Ugg boots are only $110.99, down from $179.99 (pictured in the middle).
At these prices, you might be tempted to order more than 1 pair! I cannot justify it though, I spent a fortune on clothing in the Boxing Day sales, and I already have about 6 pairs of decent boots in my wardrobe. I don't own any Uggs though... I might be tempted too!
Shipping depends where you live - I think it is might be a flat rate of between $15 and $20 - even more of an excuse to buy 2 pairs!
As I would usually do, I googled to see if anyone had any reviews about Pricematters.ca, and spotted that Lena posted about these boots today as well. She's bought herself a few pairs!