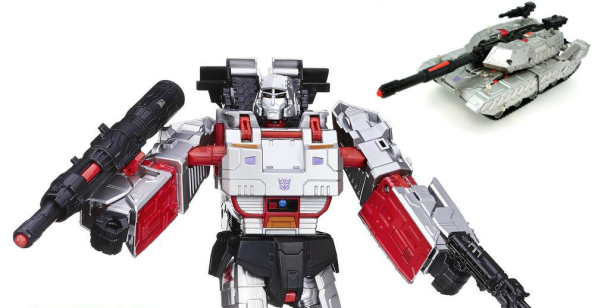 Do you want a large Transformers robot that actually transforms? Then pick up the Transformers Generations Megatron Figure on sale from $69.99 down to $44.22. Receive free shipping on this mech-to-tank transitioning bot. This is a collector-quality Transformer that is best for children over the ages of three and avid adults as well.
This is everything you and your kids want in a Transformer. The two-in-one Megatron figure converts from robot to tank mode. The tank has a wicked missile launcher for threatening the enemy (or the good guys). As this is a changing Transformer figure, you can get from robot to tank mode in 15 steps. Then, you can convert him back again.
Your Megatron figure will come with a collector card and instructions so you know how to convert him between forms. I see so many Transformer toys these days but rarely do any of them allow you to convert. The toys that do change often require disassembling instead of merely changing.
The beginning price on this toy is a bit off, but this is still the cheapest you will find it in Canada. The same Transformers Generations Leader Class Megatron Figure costs $59.99 @ Toys R Us Canada right now. I found other figures from the same set - Transformers Generations - for $54.92 @ Walmart Canada and $54.99 @ Sears Canada. Because of Sears Canada's $10 off $25 coupon code, I would recommend picking up the either of the following two for $44.99 each (after coupon when purchased separately) to expand your collection.
Unlike Amazon Canada, you will not receive free shipping to your home on these. This is just a side suggestion since it is really hard to find these huge transforming bots actually on sale. The price at Amazon is still a bit better (by like a dollar) and that free shipping really comes in handy.
Are you looking for Transformer toys this year? If so, who are your favourite characters? I would have to say that Bumble Bee, Optimus Prime, and Megatron are my favourites.
(Expiry: unknown)