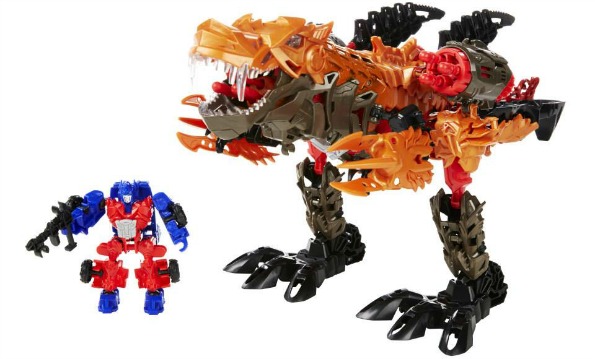 I think this is my favourite Transformer toy that I have seen so far this year. This Construct Bots Dinofire Grimlock Action Figure was $44.99 and is now on sale for just $17.99. This Grimlock action figure also comes with a small Optimus Prime action figure that can ride on top of Grimlock.
This set requires building before transforming. Build Dinofire Grimlock and Optimus Prime figures from the 79 pieces included. Once the bots have been built, they can be transformed without being taken apart again (huge bonus). Grimlock stands 10" tall and has a mini Optimus Prime that can ride on Grimlock's back when in robot mode.
Dinofire Grimlock comes with some pretty awesome firepower. He has a light up Firebreath Launcher and two rapid fire cannons that fire missiles. Grimlock is the main attraction of this under $20 Transformers set, though Optimus Prime is a pretty nice little bonus as he also transforms from truck to bot.

If you have other sets in this series, you can interchange the parts to make your own awesome Transformers. Because of the assembly required, this set is recommended for children ages 7 and up. It would also make a fantastic gift for adults who are into transformers.
Now, this set is not available elsewhere in Canada. But I did find the toy direct from Hasbro with a retail value of $39.99 USD. Thus, Amazon Canada's original price is correct and this sale price is a substantial discount. Given that you are getting a 10" Grimlock and Optimus Prime mini figure for under $20, I think this is a pretty hot deal. I have seen the 6" figures cost more!
While checking out this deal, I found a sweet little youtube video that gives you a rundown on the toy and the amount of time it took a bunch of adults to assemble and convert Grimlock. The first time always takes the longest, but this toy will certainly give your child hours of play time. This would make a fantastic gift for under the tree this Christmas.
Receive free shipping on orders of $25 or more. With Amazon Prime, this set will ship free.
(Expiry: Unknown)