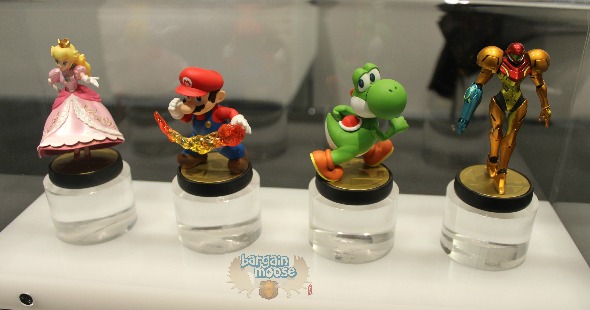 I am not sure how long this Toys R Us Canada offer will last, but it turns out the coupon code you could receive when purchasing a Cineplex Gift Bundle was generic. That means anyone can use this ToysRUs.ca coupon code to take $10 off their purchase of $40 or more. Since your order will exceed $25, you will even get free shipping. The expiry date is the 31st of March but once Toys R Us Canada catches on that everyone is using it, they may end it abruptly.
Click here to shop @ ToysRUs.ca now
Coupon Code: CINEPLEXHOLIDAY
Discount: $10 off $40
Expiry: 31st March 2015
Good news and bad news. The good news is that you can shop at ToysRUs.ca and take $10 off when you spend $40 or more with this coupon code. The bad news is that you can only apply this discount to regular priced toys and items.
The Nintendo Amiibo Character Figures seem to be popular right now. I also have yet to see a good sale on them. I like coupon codes like this to pickup items that rarely go on sale. The Nintendo Amiibo Character Figures are only $13.99. You can pickup characters like Donkey Kong, Kirby, Diddy Kong, Pikachu, Yoshi, Mario, Luigi, Zelda, Peach and more. Even the Lucario Nintendo Amiibo Character Figure is coming on the 6th of February. There are many more characters available, but these seem to be the only ones listed on ToysRUs.ca.
These Nintendo Amiibo figures can be used for the Nintendo Wii U as well as the new Nintendo 3DS XL. I am sure some of you (or  your kids) had these devices under the Christmas tree, and why not add some more Amiibo figures to your collection? Different characters can be used for different games so you may want to take a glance at this compatibility chart I found on the Nintendo website. There are a number of games that are compatible with the Nintendo Amiigos characters including:
Super Smash Bros. for Wii U
Mario Kart 8
Hyrule Warriors
Mario Party 10
Code Name: S.T.E.A.M.
Kirby and the Rainbow Curse
Every character can be used for Super Smash Bros for Wii U, which is probably the most popular of these games. Unfortunately my favourite character, Pikachu, cannot be used for Mario Kart 8. Since Target is leaving, it may also be hard to get your hands on the exclusive Target's Rosaline Amiibo figure. What game are you excited to play with your new Nintendo Amiibo Characters?
Personally I always wonder why they don't offer these discounts in stores as well. I guess you could opt for in store pickup, but you'll get free shipping anyway so no point really. Toys R Us Canada offers free standard shipping on orders that exceed $25 after discounts.
You can even find more Toys R Us Canada coupon codes in our Bargainmoose forum.