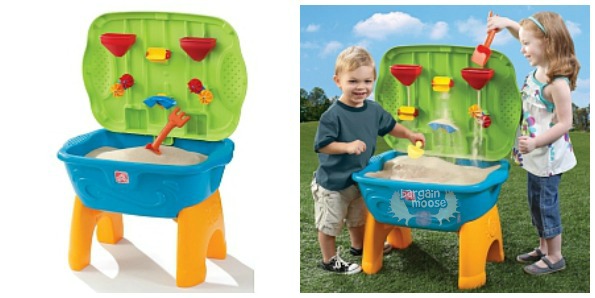 Are you ready for your kids to be outside in the warmer weather without crying about how bored they are? If not, Toys R Us has a sale on outdoor toys right now and I found this gem, a Sand-Tastic Activity Centre on for only $34.97, regularly $59.99.
I've never had a sand table and I'm telling you, I fully regret it. Instead, we bought a sandbox for my two oldest children when they were ages 2 and 1. They absolutely loved playing in it. That was until a rain storm filled up the lid and it caved in, rendering it useless. When we moved, lucky for us, the former owners had a sandbox built-in to the lawn. What fun! That was until the kids dragged sand in to my house on a regular basis. They would take their shoes off and sand would just pour everywhere. They'd walk to the front of the house and leave a trail. Weeds and grass also grew inside the sandbox and I'm not too sure what one of the neighbour's cats were doing in it one night.
Needless to say I am a fun of sand play, but not the kind you sit in. This sand table makes all of those problems disappear. The small size means it won't take up your entire backyard, the lid means the sand stays clean and the extra toys and gadgets means it will be super fun for the kids. This would even work in a basement if you aren't partial to sand being on the floor.
Shipping is free on orders over $100.
(Expiry: 11th April 2013)