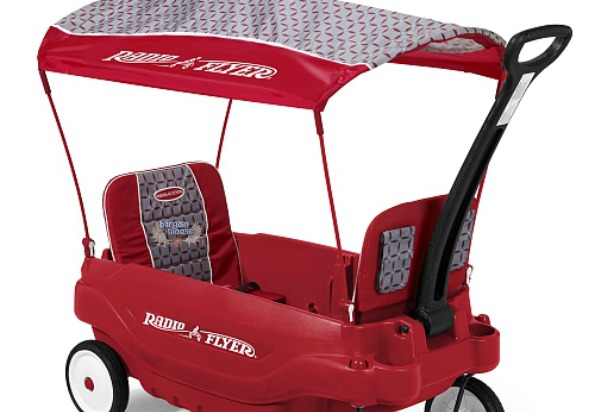 If you've already had a spring outing and realized your kids a) won't walk b) are heavy c) have too much stuff, you might just need a wagon. Radio Flyer is the ultimate name in wagons and this 5-way family wagon is the ultimate of the ultimate. It is now on sale for $159.97 with a regular price of $229.99. I price compared and found this wagon and one very similar to it for a minimum of $200 and up to even $350 at various retailers so this is a steal!
Seriously, what do parents without wagons do? You might say they use a stroller, but in my experience, kids don't want to sit in strollers all that long. For some reason, they love to sit in wagons and in fact, my kids used to fight over who got to sit in it. Especially with more than one kid, a wagon is really a must-have.
This wagon is a very versatile beast. It has five seating and storage options depending on how many kids and how much stuff you have. It has a removable canopy, which is perfect when you want them out of the sun. It also has child and adult cupholders, because it is pretty hard to hold your drink and pull the wagon.
I've read many of the reviews on Toys R Us's website and most absolutely love this wagon and say it was even better than expected. Parents loved the high backs on the seat for comfort, the seatbelts to keep the kids from standing and falling out (this happened to me, it was not pretty!), and that it can still fit in the trunk of most cars.
Because it is a larger item, it won't ship free even though it is over $25, but you will get $10 off your shipping cost.
(Expiry: Unknown)