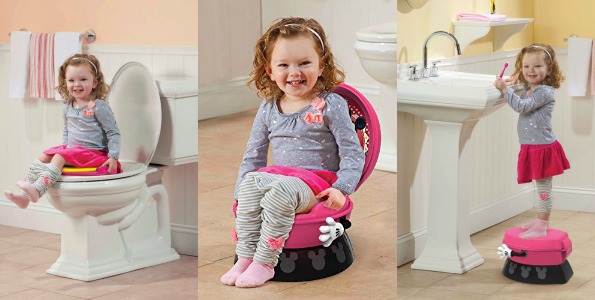 Yesterday I blogged a cool deal on a urinal for boys. Well, I can't forget the girls - they need to tinkle too! I found a very cute 3-in-1 system for girls featuring the ultra-adorable Minnie Mouse. Regularly $36.99, it is on sale at Toys R Us for the lower price of $22.17.
I had to read the description to find out how a potty can have three functions and what this means is that it grows with your child, which I love. So, you can use this potty as just a potty, then you can detach the seat for using on the toilet and with the seat detached you can use the base as a step stool. No more having to buy three different items - just buy the one and you are set until about age six or even older!
I think this is a great concept because you will definitely need both the seat for the toilet and the step stool. My youngest has grown out of the seat but he would not go to the bathroom without a toddler seat, no matter what. He was so afraid of falling in. He also had to have the step stool under his feet too, which I think helped him feel secure. He then moved the step stool over to the sink so he could wash his hands.
I also like that this potty makes a flushing sound for your child, which kind of gives a bit of positive reinforcement when they've gone.
Some haters say you shouldn't use a potty, that kids should learn with the toilet from day one. While they could be right, that means they've never known a kid who didn't want to go. With my second I bought a potty because no matter what I tried, I couldn't get him to go in the toilet to even start to give him that positive reinforcement. I ended up buying a potty to sit on while he watched a show and then he would accidentally pee in it and I could make a huge fuss that he did it in right spot. After a while of doing this, he would want that big fuss and would do it on his own and of course, he now goes in the toilet.
The potty has many positive ratings:
My daughter loves her Minnie potty chair. She sits on it and tries to potty, but isn't quite there yet. The handle to "flush" makes it even more realistic.
Taking a look around, every other store sells this for $35 or more, including Amazon.
Toys R Us offers free shipping on $49, so see if you've got any other shopping to do and get yourself out of those extra fees.
(Expiry: Unknown)