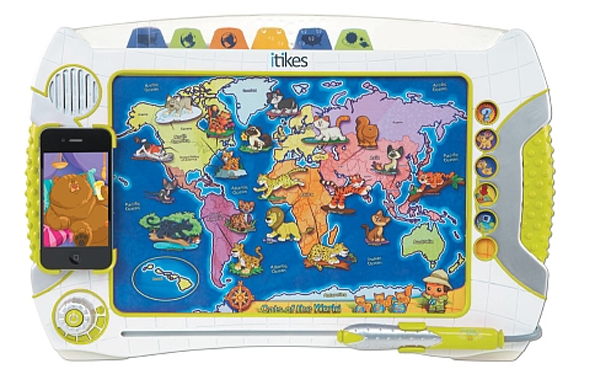 Good morning, my fellow Bargainmoosers! Toys R Us is having a pretty sweet sale on their Little Tikes iTikes Map today - you can now get it for $19.98 (plus $8.74 shipping). This Little Tikes iTikes Map usually retails for $34.98, so you're saving $15 with this deal. If you spend at least $25, you'll qualify for free shipping, so I highly recommend that you find another product that's at least $5.02 - after all, it'll cost you approximately $8.74 in shipping if you don't get anything else, so you may as well get something extra AND pay less for your order!
The Little Tikes iTikes Map is a great educational product for children. It reads aloud some fun, interesting facts, and you can also connect to it  with select cell phones and tablets, like the iPhone and iPad, via the App-based play. This is quite the interactive device! It's geared towards those who are around 3 to 4 years old. You can learn more about this edutainment device by clicking on the link above.
It's a great time to learn when you're a child. It just seems like you can absorb a fair amount of information with a younger mind (I still remember plenty of things from when I was a child, yet I can sometimes forget about TV shows that I just watched a few months ago - go figure). This looks like a really cute device, and it would certainly be a great gift for any child that loves to learn!
I remember being especially interested in learning more about other parts of the world when I was a young child. Unfortunately, some of my facts were mixed with fiction, since my source of information was the old computer game, Where In The World Is Carmen Sandiego? It certainly gave my teachers a good laugh!
If you found this Little Tikes iTikes Map at WalMart in America, it would cost you $40.31 US. I've included a brief review of this educational device from a satisfied Toys R Us customer below:
This is a great toy! It's so much fun to spend time with my granddaughter travelling the world without spend a dime. After we travel we going into the kitchen and try to make a item from the area that we learned from.. It's priceless!!!! Thank you.
I hope you're all enjoying your Saturday, my fellow deal hunters!
(Expiry: Unknown)