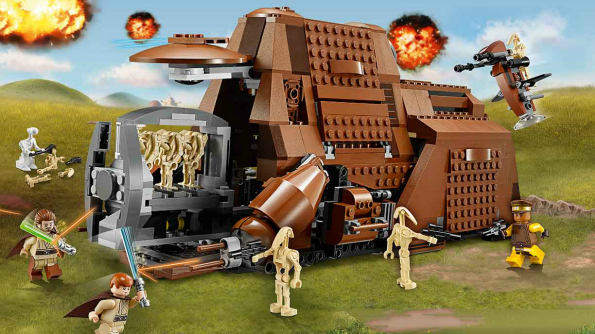 I was just talking to a reasonably close acquaintance whom was looking for deals on Star Wars LEGO for his son as it was on his Christmas wish list. He could not believe the price of the sets compared to his budget for a set, so I have been on the lookout for any sales since. This LEGO Star Wars - MTT (75058) set is currently on sale from $109.99 down to $87.97 at Toys R Us Canada. As your purchase is over $49, you will receive free shipping. I do not know if this will arrive in time for Christmas, so you may wish to upgrade your shipping speed.
This is a hard to find set as it is out of stock at Amazon (except from Marketplace sellers starting at double Toys R Us' price) and Walmart does not carry it anymore. You can still find the set at LEGO Store Canada for $109.99, but they will be retiring the product soon. I am pretty stoked about this deal as you receive an incredible 954-piece set including three mini figures and four additional figures.
Your first question may be: "what is an MTT? An MTT is a Multi-Troop Transport vehicle used for transporting droids and more. It is heavily armoured and pretty darn cool. It has hidden wheels and an array of solid vehicle armour. Open it up to find spring-loaded shooters, front cannons, and more.
As this is a transport, you can pull out the Battle Droid rack and attack with your droids. You will receive a Battle Droid Pilot plus two battle droids. There is actually some discrepancy between LEGO Store Canada's description and Toys R Us Canada's description. According to the LEGO Store, this set has the mini-figures "plus a Battle Droid™ Pilot and 7 Battle Droid™ figures." Let me know how many you get.
A Naboo Security Guard, Obi-Wan Kenobi, and Qui-Gon Jinn are the three mini-figures included with this set. Essentially, you get a lot of awesome figures to recreate a sweet battle scene from Star Wars. Many parts are interchangeable in the MTT, so you can design your own droid transport vehicle and win the battle. With over 900 pieces in this set, it is sure to guarantee hours of fun.
(Expiry: Unknown)