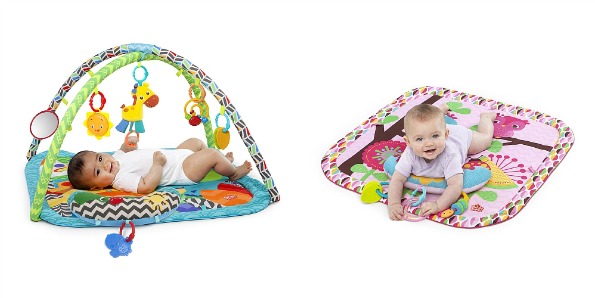 A good friend of mine just had a baby this summer and also got new hard floors. This meant she couldn't just lay the baby on the floor any longer as the surface was too hard. Plus, he was getting to the point where he wanted something to do and loved to roll around, so she got him a new activity mat. She didn't wait for a hot deal like this one at Toys R Us, but if any of you are in this position or need a reasonably priced, but large baby shower gift, this is perfect. Regularly $69.99, there are two mats on sale, both $34.97, this weekend only.
These mats are cool because you can use them for baby as an infant and as an older baby. I remember my first baby mat fondly. I say fondly because remembering my baby at that age is nice, but also because it let me put him down and I needed that sometimes.
There are two styles of mats. The first is called Silly Safariand has a giraffe plush toy, plus four songs, a bird-shaped teether, smiling sun ratter and leaf teethers. If your baby loves animals or you want him to, this is the mat for you.
The second mat is the Happy Tweets activity gym and it is bright and pink. They say it is made for baby girl, but hey, pink is a versatile colour for either gender. Instead of the animals it has lady bugs and flowers. This mat also helps support a breast cancer charity as well.
Both have a plush pillow for propping him up either on his back or front, when baby is able. Sorry, I noticed I said him, and that's because I have three boys, I think they only come that way ;)
Taking a look around, this is a fantastic price for an activity mat with these types of features. Looking at Amazon, most are priced from $60 and up.
If you spend $49, you'll get free shipping, so you might as well add a bit more to your cart and get more things crossed off your Christmas wish list.
(Expiry: 18th October 2015)