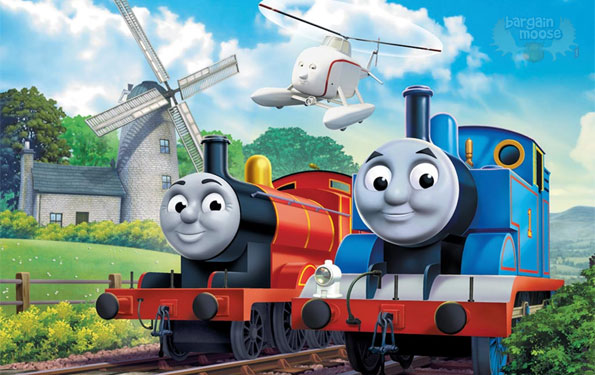 Are your curves better then Thomas' corners? Until the end of the weekend, Thomas & Friends wooden railways are 50% off at Toys R Us! Originally $14.99, each one is now just $7.47.
Considerng the discount, these are actually bound to sell out very fast as they're in very high demand and don't go on sale like this often.
Suitable for kids ages over 2 years, these railway sets are absolutely great for little hands to put together into longer trains with magnet connectors. They're perfect for Thomas & Friends wooden railway sets or just for playing with on their own.
Of course, these little trains aren't just for kids. These are collected by many and in fact, the only review of the Thomas wooden railway was actually left by one such collector. Giving it a 5/5 star rating, the reviewer wrote a rather lengthy review praising this railway collection. Here's a snippet from the review:
The face is of particular significance - revised in 2013 to more accurately reflect the television series counterpart, this Thomas' face is done very well indeed - looking for all the world as if Thomas has leapt off the television screen and into a wooden form. In a franchise like Thomas where faces are incredibly important for children in recognition and understanding, Thomas' face is done extremely well.
The fact that these wooden railway sets are this detailed and accurate to the TV show is actually pretty cool, whether you're collecting them or buying them for a child to play with.
Thomas is the most popular one but there are plenty of other wooden railways that you can get on sale for just $7.47, such as Percy, Toby, Rosie, Dash, Bash, Winston, etc.
If you only get one of these railways, then shipping won't be free. You either need to shop for over $49 to have your order delivered for free, or look for the little green check mark indicating that you can pick it up in-stores for free.
(Expiry: 27th September 2015)