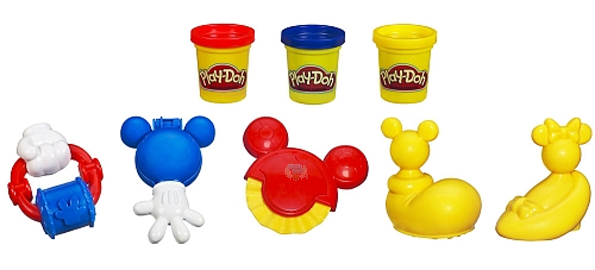 Today's deal should be an enticing one for those that have children who love Play-Doh! For a limited time, when you purchase Play-Doh that's $14.99 and under at Toys R Us, you'll get 50% off each item! You can save on some great sets, like the Mickey Mouse Clubhouse Disney Mouskatools Set ($7.47 - was $14.99), Sweet Shoppe Candy Jar Set ($7.47 - was $14.99), and even a Play-Doh Classic Colours 4-Pack ($2.47 - was $4.99). If you spend at least $25 on your total order, you'll also get free shipping!
When you click on the link above, you can find a huge selection of great Play-Doh products that were originally $14.99 and under, allowing you to take advantage of this 50% off deal! The most that you'll be paying for each of these Play-Doh items (since the discount is already applied for the eligible products) is $7.47, so these would be great stocking stuffers for Christmas!
As a child, I loved Play-Doh. I eventually started to use plaster-cine when I was 8, but I really had a fun time making characters out of Play-Doh. I think it's one of the most creative products for children that are out there, since it allows them to use their imagination and create something from scratch. I know it allowed me to explore my artistic side as a child, and I will definitely buy plenty of Play-Doh for my children when that day comes (I'm in no rush at the moment).
To show you how much of a great deal this is, the Mickey Mouse Clubhouse Disney Mouskatools Set normally sells for $12.94 at WalMart(currently out of stock), and it's $11.99 US on Amazon's American website. Listed below is a brief review of this Play-Doh set from a satisfied Amazon customer:
My two-year-old twin boys are huge fans of Mickey Mouse Club House, so I had to get this play-doh toy. I was pleasantly surprised at how toddler friendly the accessories are. My boys were able to use all of them with ease. Plus they love that it's their favorite character, Mickey.
This deal won't be around for very long, so take advantage of these savings on Play-Doh products while you still can! I hope you all enjoy the rest of your day, my fellow bargain hunters!
(Expiry: Unknown)