Save
25 to 50%
on a wide selection of children's bikes and scooters at Toys R Us. From 12" to 26" inch bicycles, find one that fits your growing family.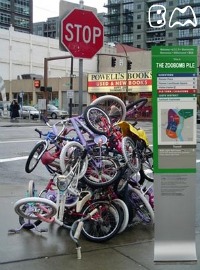 Save $100 on this "24" Avigo Freedom Bike, now only $149.97.
You can also save $25 on this 12" Jeep Bike, only $74.97.
If you buy a helmet with some of the bikes, you will get $5 off.
Check out this picture: it is of the Zoobomb Pile. Every year Portland, Oregon holds the Zoobomb Summer Olympics. The idea is to fly down a hill as fast as you possibly can, on an unusual bike. Kid's bikes are very popular!