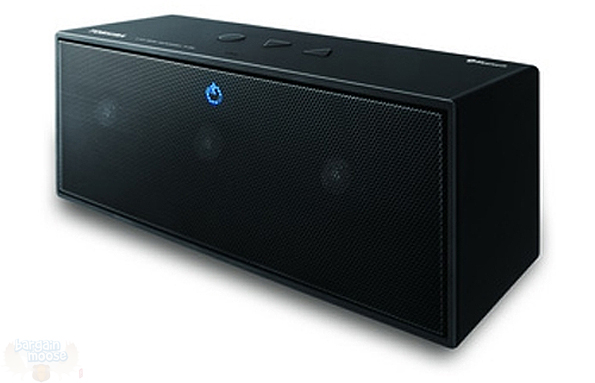 Originally priced at $119.99, you can pick up the TY-SP3K Portable Stereo Bluetooth Speaker and Speakerphone for only $39.99 with free shipping from Toshiba.ca just now.
If you don't know what this device is, the Toshiba TY-SP3K is designed to hook up to your smartphone or tablet and give you much better sound quality to play some awesome tunes.
Some highlights:
Speaker Wattage: 3W x2 and Bass driver 5W
Bluetooth music play time; 10 hours at 75% volume level
Built-in rechargeable lithium-ion 1100mAH battery
Handsfree speakerphone function
H80mm, W190mm, D60mm
The Toshiba TY-SP3K has a built-in rechargeable battery which enables it to operate for up to 8 hours on the standard charge. This sounds really handy – if you're having a party or something, you could easily move it around the house or into the garden, to entertain your guests with ease. Recently, we've been having quite a few BBqs at home to entertain the family, but we don't have a little portable music system to take to the bottom of the garden – this device would be ideal.
To get the music to play on this device, you'd connect it up to your device via Bluetooth… so just check the specs of your device to make sure it's compatible.
Reviews
I was googling for reviews of this Toshiba TY-SP3K speaker and I found a video review here on Globalnews.ca. They start talking about this item at about 2 minutes 44 seconds. It actually looks smaller in hand than I had imagined from the image on the Toshiba site, as there is nothing on there to compare the scale.
Price Comparison
All other Canadian online stores have this Toshiba TY-SP3K Portable Stereo Bluetooth Speaker and Speakerphone at much higher prices. Not all of these include shipping, but the base prices elsewhere are $70 @ Computervalley, $85 @ FrontierPC, $90 @ Amazon, $90 @ Aartech, $120 @ Dell. You can see that the price directly from Toshiba.ca online is really super, especially as it comes with free shipping too.
(Expiry unknown)