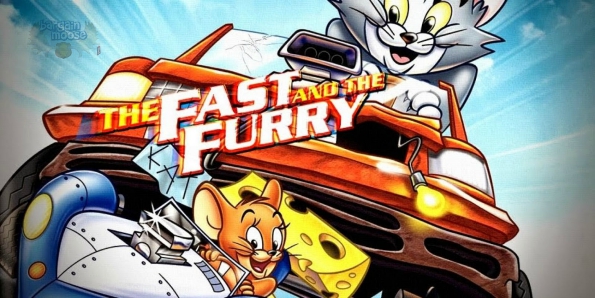 I cannot tell you how stoked I am for this awesome freebie movie! This week you can rent Tom and Jerry: The Fast and the Furry for free at Google Play. The movie rental usually cost $4.99, thus you are saving yourself a fiver with this sweet Deal. Even better, you get free family entertainment to help you keep your kids entertained this summer.
This movie is another tribute to the epic battle for survival between a cat and a mouse. This time, Tom and Jerry are going up against each other in the "Super Race," which is an extreme reality show (think the Amazing Race) where you drive all-terrain race cars around the world. The prize: an ultra-luxurious dream mansion will be given to the winner!
They are not only competing against each other, they are also competing against other characters like hot rod Granny and her dog, a super genius, a soccer Mom with a tricked-out minivan and many more. This movie will visit such wonders as the Eiffel Tower, the Great Wall of China, and Mount Rushmore where I am sure hijinks will ensue.
The movie has great reviews overall as it has a 4.2/5 rating with over 350 reviews. One reviewer said:
Haven't seen the movie in a few years but I remember like a saw it yesterday. Tom was so desperately trying to win that race lol
Thanks to my fellow blogger Kristy for pointing out this amazing deal. Now, if your kids become addicted to this movie like kids tend to do, then they will want to watch it over and over again. In that case, the movie-to-own is on sale from $14.99 down to $5.99. I assume that the free rental deal and the discount on buying the movie will expire around the same time. When that is, I do not know!
I really like being able to watch a movie before buying it. If I just buy a movie, then it may sit on my shelf for ages because I watched it once and didn't like it very much. With movie rentals, I get to see how much I like the movie before purchasing. Free movie rentals make this even better! I know what I am watching this weekend.
(Expiry: Unknown)