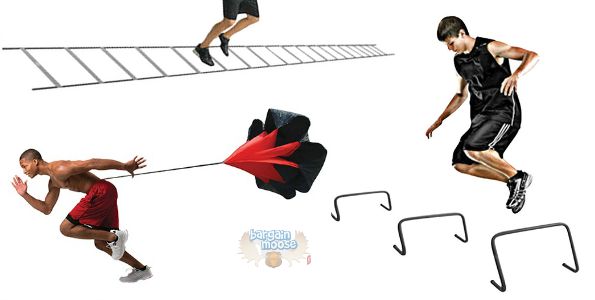 If you have been looking to push your workout, you should check out the Tapout 3 Piece Agility Training Kit. This set was $99.99 but is now on sale for $59.99 for today only at Best Buy Canada. This set also meets the minimum for free shipping.
This agility kit looks like a fun way to freshen up your workout. Some of the pieces in this kit look like equipment my kids can easily try right alongside me, which they will insist on doing anyways. This training kit is worth picking up now while it is on sale.
This training kit includes the following pieces:
Agility ladder to help you push your own personal speed and agility (also can double as cardio!)
Three steel hurdles to help you create your own agility course
Resistance parachute that creates up to 30 pounds of resistance
So basically with this kit, you can create your own obstacle course right in your backyard. While you could set something up with hula hoops for fun, the reality is if you want to be able to use this workout more than once, you need good quality equipment that is not going to break if you miss a step. Those steel hurdles will stand tough even when you knock them down. The parachute is another great addition to help you really focus on increasing your top speed, giving you drag and resistance. An agility ladder is a tool used regularly with trainers to help you focus and improve. If you need some ideas, King Sports Training has thirteen different exercises you can do with an agility ladder. This particular kit also comes with a 60-day parts warranty.
I found this exact kit at Costco.ca for $84.95. Sears.ca also carries this exact fitness kit for $99.99. Over at Amazon.ca, I found a similar agility kit that does not include the resistance chute for $99.99. Priced out individually on Amazon.ca, a similar Sklz brand parachute runs $29.99 and a Sklz ladder costs $38.16 before you add the hurdles.
I was at a local festival this past weekend and saw an adult hopping through a ladder placed on the grass at one booth. I mentioned it to my friend wondering aloud if it was an obstacle course for the kids, but she pointed out that it was a workout company for adults that trains outside in the parks. I have seen these fit trainers before as I take my daughter to various parks. Along with stepping up on park benches and doing jumping jacks, they are always using pieces like those that are included with this kit. If you want to be able to create the same quality of workout as a trainer will, this kit will give you a great start.
(Expiry: 4th August 2015)