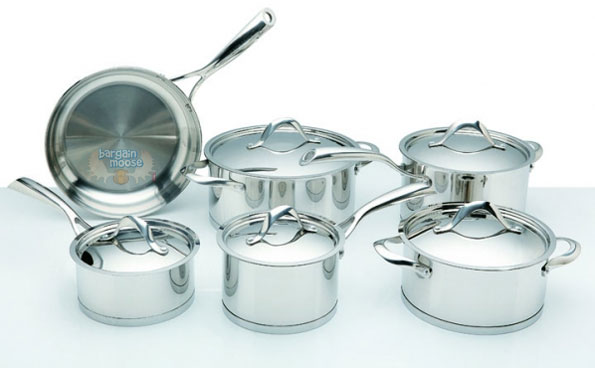 **Bumping this again as the price has once again dropped. Get this set for only $104.99 today only! Also be sure to check out the 12-piece ProGourmet cookware set for only $109.99**
Back in September, Ivan blogged about a deal on this same cookware set as it was on sale for $180 but today only, you can get it for an even lower price tag of just $104.99 at Best Buy $169.99 at Future Shop. It was originally priced at $699.
Did you know that Muskoka is also a regional municipality in Ontario? Although Paderno's set doesn't have anything to do with this municipality, it's still interesting to know that the name "Muskoka" actually comes from an 1850's First Nations chief.
On Paderno's own site, this same cookware set is at its regular price of $699.99. It comes with the following:
1.5L saucepan
2L saucepan
4L saucepan
3L casserole
5L dutch oven
9.5" fry pan
5 covers
This means that per piece, you're only looking to be paying $15.45, which is definitely a great price, especially for a cookware set that would have otherwise cost over $700 once you count taxes in. This cookware set is made from 18/10 stainless steel, making it safe for all cook tops, including induction.
Here's a very useful review:
Wonderful stuff... very good set BUT We bought it for our ageing parents and the first time they used the pans they discoloured. This is normal for stainless (it gets a rainbow colouration from the heat), but they didn't know that and wanted to return them. Suggestion: always buy some stainless steel cleaner when giving these as a gift.... It will save you time and energy.
Each pan is also made with durable riveted handles that are ergonomic. Another major perk is that the edges have been rolled for easy pouring. I have spilled so many soups and sauces by directly pouring them out that now, I typically use a ladle. This way, I have been avoiding making a mess but the only downside is that it takes much longer than directly pouring the contents out. So I can only hope that the Muskoka rolled edges really do help.
Another major advantage to this set that I'm sure many of you will appreciate is that it's dishwasher safe and also has a 25-year warranty but the chances of you needing it are rather slim.
Best Buy also offers free shipping .
(Expiry: 22nd July 2015)