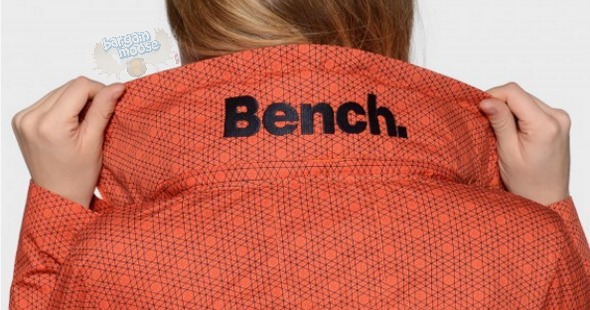 When someone tells me they have bought a new Bench jacket, the original BBQ Jacket is what I picture. The BBQ Jacket from Bench Canada has to be their top seller. While they can be quite costly at around $130 at regular price, you can also find them on sale once in a while. Right now the Tigerlily (orange) BBQ II Jacket is on sale from $130 down to $64.99 at Bench.ca.
Ever wondered why this popular apparel item is named after a BBQ? Bench Canada prints the fabric to feature a grill mark appearance. Kind of silly right? This jacket has become so popular, on rainy days or during slightly cooler weather you are bound to spot some people wearing these. While they may have spent the whopping $130 regular price, you can buy your BBQ II Jacket on sale for just $64.99 and nobody will be able to tell the difference.
There are other colours available if orange isn't what you were looking for, but unfortunately the prices are a tiny bit higher. The cerise option is gorgeous and just a few dollars more if you were looking to snag two of these jackets for your collection. Here are the other sale options available for the BBQ II Jacket at Bench.ca:
The BBQ II Jacket from Bench Canada has lots of awesome features. Rain? No problem. I know from experience that this jacket is water-proof. I got stuck in the pouring rain waiting for a bus while wearing mine. If you're worried about the rain or wind ruining your hair style, just pull out the fold-able hood from the collar. Be warned though, it never goes back quite the same. The zippered pockets are great if you are prone to losing your phone or change like I am, and who can miss the large Bench logo embroidered across the back of the neck? Lots of people wear these jackets with the collar popped to show off this logo.
You'll even get free shipping on your order if you spend $99 or more. I am considering throwing two of these jackets in my cart. One for my mom as a gift and one for myself. Then my total will be over $99 and I won't have to worry about paying the regular shipping & handling fee which is $9.95.
(Expiry: Unknown)