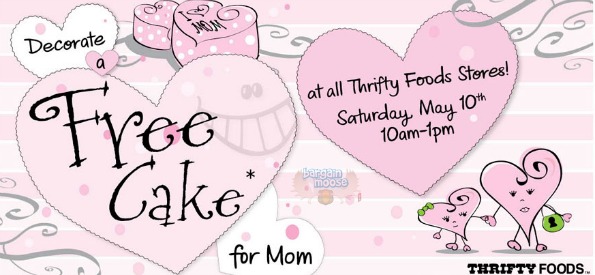 Back in April, we told you about getting free birthday cake for your child from Thrifty Foods. This time around, they are offering a free cake for mom for Mother's Day.  The first 200 people in each of their locations that want a free cake for mom will get one.
Here is how the freebie will work. If you have a child that is 12 years old or younger, bring them into your local Thrifty Foods to the bakery.  The first 200 kids that qualify will get a decorated cake for mom absolutely free for Mother's day. There is a limit on one cake per child per family while supplies last.
This is a perfect little Mother's day treat that your kids can get mom free of charge!  I have a feeling that these free cakes will not last all the way until Mother's day so make sure to go early.  You can just put it in your fridge to keep it cold. You can even surprise mom early with the cake if you want to.  You don't have to wait until Mother's day to give it to her!
If you are looking for Mother's day gift ideas, check out more on our forum.
(Expiry: 11th May 2014 or 200 limit)