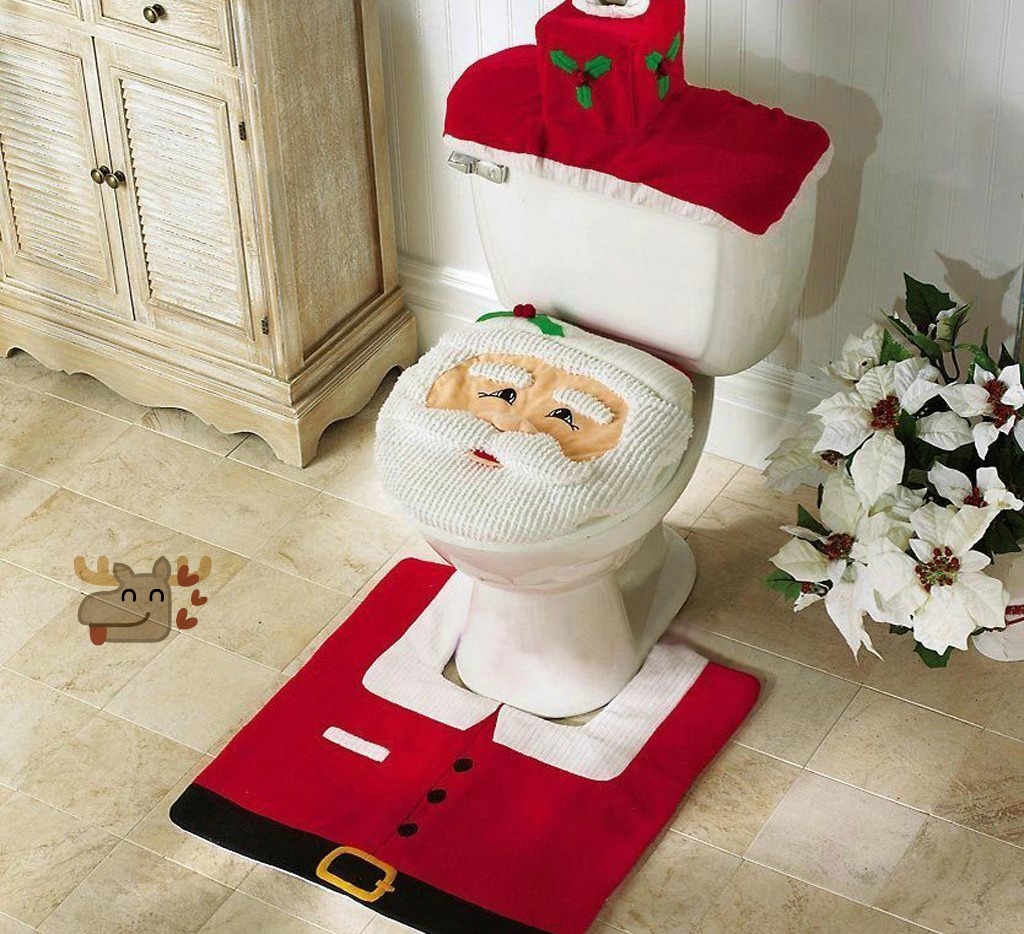 *Bump! This item has dropped in price - just in time for Christmas!*
Do you go as crazy as I do decorating for the Holidays? My house could potentially pass as haunted right now with all the Halloween decor, but I am already excited for little Christmas knick knacks too. What I don't have it Christmas bathroom decor, but that is about to change. Shop at Amazon Canada and you can grab this 3 Piece Christmas Decorations Santa Toilet Seat Cover And Rug Set for just $11.97, including shipping.
I don't think I have seen toilet decorations before, but this sure is one way to make the bathroom adorable for Christmas. The 3 Pieces Christmas Decorations Santa Toilet Seat Cover and Rug Set is just $11.97 and will completely transform your loo. This set includes the Santa toilet seat cover, back of the toilet cover and a rug. I am sure you could find a soap dispenser and toothbrush holder in Christmas theme to match as well. So exciting, I just love decorating.
Chances are if you like this decoration set, then you will like the Santa Suit Christmas Silverware Holder Pockets I posted earlier. Call me crazy, but my bathroom was my only room left not decorated for the Christmas season, and that is all about to change. Though, it might be a little weird sitting on Santa to go to the bathroom. Okay, I am a little confused. The title says that this set is 3 pieces, but the description says 4 pieces. It says to include a tissue box cover, but I think the cover for the back of the toilet actually extends to become a tissue box cover as well. Cute idea for sure but that might make it a bit of a hassle to change out the tissue box. Not sure how often I would honestly use tissue in the bathroom, with the toilet paper right there. What else could you use the tissue box cover for?
While this offer is not shipped or sold by Amazon themselves, it does offer free shipping even though you're not spending the $25 that Amazon.ca usually requires for free shipping. The seller is Good Cool and they ship from over seas. While there is potential for duties at your door, I have never had to pay duties for something coming from overseas before and I order a lot of items from Hong Kong and other places. Either way shipping is included.
(Expiry: Unknown)