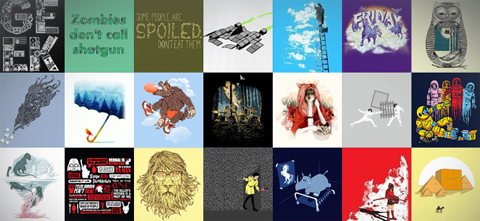 I just got an email from my favorite company in the world, Threadless.com. For 24 hours only, they are having a free worldwide shipping promo! I've known of Threadless for quite a few years now, and this is the first time I have EVER seen a free shipping promo on their site.
The free shipping promo will start on Monday the 2nd of November, at 10am central time, and will end on Tuesday the 3rd November, also at 10am central. As I write this, the promo has not yet been activated, I'm waiting for it to happen.
The normal price of Threadless tees is $18 each. But you can see that they also have some items on sale, in the $9 section (girls | guys), the $12 sale (girls| guys) or the $15 section (girls | guys). Although it can sometimes be difficult to find your size in those sections… might require a bit of hunting.
Now, if you are going to make an order for a few cool t-shirts, I would highly recommend ordering each one in a separate transaction. As they ship to Canada from the US, you really don't want to get hit by customs and duties if the product value is over $20, so just make separate orders and this won't happen!