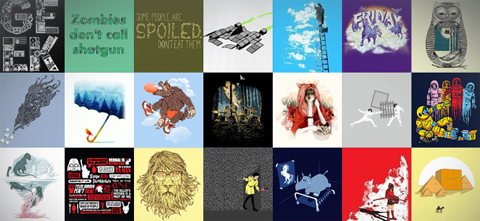 Got a nice email from Threadless.com, my favorite t-shirt company in the world! On Black Friday (27th November 2009), they are holding a $9 sale on all their stock.
I am posting this well in advance, as Threadless mentioned a really good tip in their email. Browse the t-shirts now, and add the ones you like to your shopping cart. As long as you don't clear your cookies between now and Friday, your chosen Threadless tees will still be waiting for you in your shopping cart. You will be able to purchase them at the discounted price on Friday. They usually sell out quite fast though, so I would try and purchase early in the day (Starts 11/27 12:01 am CT, ends 11/27 11:59 pm CT).
I'll bump this post on Friday morning to remind you guys to buy!
Remember folks, Threadless orders will ship from the US, so depending on how much you are spending, there may be a little extra to pay in duties.
I am NOT going to buy any more Threadless tees this time, I have sworn myself off them for at least a few more sales. I have so many, it's probably getting a little silly. But I love them so much! One of my faves is this "birth day" tee. This "spoilt" tee gets quite a lot of looks too.