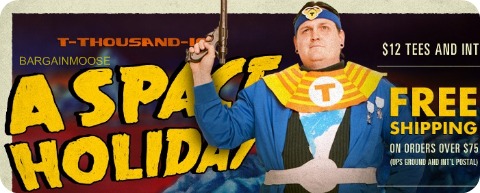 Threadless is having a sale almost every day while gearing up for Christmas. They have shirts as low as $5, Babies' and Kids' clothing as low as $5 each and hoodies as low as $25. On top of that they are offering free international shipping on orders of $75. If you manage to catch one of their 3 hour sales during the weekdays you could get an even better deal! So with all this going on, I just had to find coupons to go on top!
Discount: $5 off $40
Coupon Code: YAYEMAIL
Expires: 20th, December 2010
Or if you think $40 is a bit too high a minimum, or you see this post after that coupon expires - you can LIKE Threadless on Facebook to get the following coupon:
Discount: $5 off $25
Coupon Code:Like on Facebook to get yours
Expires: 26th, December 2010
I recently got the BEarth hoodie. I have only worn it a couple times out and got several compliments. :-)
All prices in USD and ship from the US.