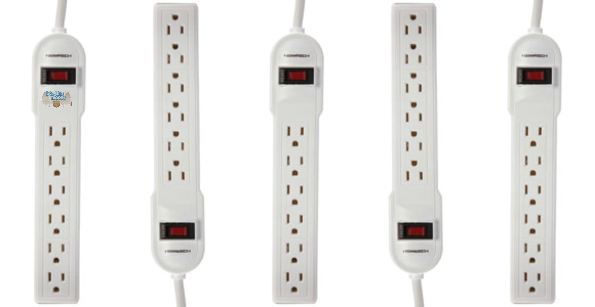 I am always on the lookout for inexpensive technology that we use in our daily lives. Few things are more basic to a household these days than a surge protector. We use them to keep our televisions, Blu-ray players, computers, portable technology, and more all safe from electrical surges. Originally $14.99, this Nexxtech 6-outlet Surge Protector is on sale for $4.88. Use coupon codeTS499 to have this surge protector shipped to your door for free.
The real deliciousness of this deal comes from the combination of the price and that free shipping coupon. Seriously, I have not seen a surge protector cheaper than this! The last time I saw a good deal on a surge protector was this Belkin unit for $6.99. However, Nexxtech's surge protector is already better as it comes with the shut off button - kill switch - at the top (Belkin's didn't). Even better, the Nexxtech unit is cheaper.
You might encounter power bars and think they are the same as surge protectors but there is a difference. A simple power bar just provides more outlets whereas a surge protector actually protects your electronics.
This surge protector is perfect for any room that needs extra outlets. The bar has room for six grounded plugs with 245 joules of surge protection. The surge protector can handle 4500 maximum spike current with 6000V maximum surge voltage. There is a one-second clamping response time. The surge protector comes with a 3-foot long cord for a little extra leeway from the wall outlet.
I like this bar and I love the price! Even more importantly, this little accessory comes with free shipping. I do think that the kill switch really makes this unit perfect. You can save a lot of money by using the switch to turn off power to your electronics. Electronics are always drawing power - as long as they are plugged in. Instead of unplugging all your devices, you can just shut off power using the kill switch on the surge protector. Over the year, you will save many dollars in electricity charges from electronic leaches.
While this deal is on for a bit, I expect it to sell out sooner than that as hot deals like this do not come around every day.
(Expiry: 29th July 2015)