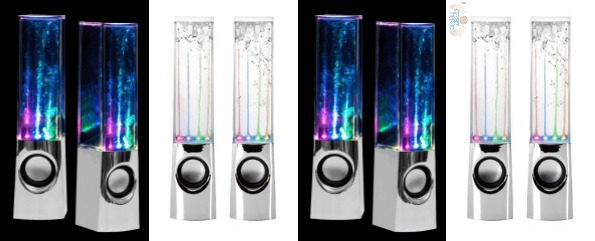 The Source Canada is selling these super cool Water Dancing Speakers for only $19.99, originally $49.99.
I price compared these speakers at Amazon.ca where a marketplace seller has them priced at $39.99. That was the only place I could really find them in Canada but most the places I saw them in the USA had them priced at $39.99 as well.
These speakers have had a lot of positive reviews at The Source Canada. Out of 73 reviews, the speakers average a 4 1/2 stars out of five. If you are looking high end sound quality, then this pair of speakers is not for you. But if you are looking for acceptable quality with a wicked lightshow... then step right up and pick up this deal.
As one reviewer said:
The way the colored water jets light up the chambers is something else. Over all these speakers do serve there purpose and are good value when on sale.
That reviewer bought his set for $30. You can not buy them for only $20 and enjoy the same awesome waterworks. The water does not just follow some randomized sequence, it actually shoots up with the beat of your tunes. Great for your own personal pleasure, or a conversational piece at a party.
Receive free shipping on $20 or more at The Source.
(Expiry: 10th June 2014)