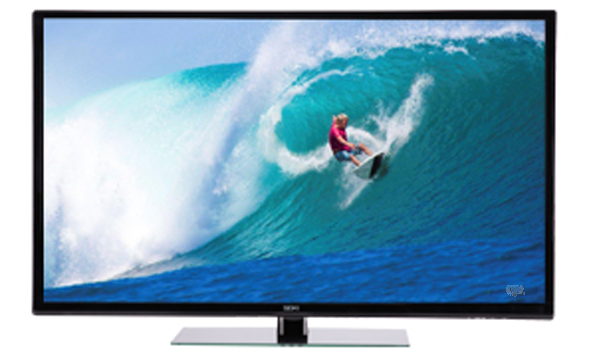 There have been some great 4K television sales lately. Such is the case with today's deal at The Source - you can get a refurbished Seiki LE-55GCL-P 55" 4K Ultra-HD DLED TV for $629.98 (plus $34.99 shipping) ! The regular price of this TV is $1039.99, so this is an alluring deal! Even though Seiki isn't exactly a familiar brand name, the fact that you can own a 55" 4K television for $629.98 is pretty incredible. If you want to save on the shipping cost, you can also arrange for a free in-store pickup from a The Source location that's near you.
Some of the features of this Seiki LE-55GCL-P 55" 4K Ultra-HD DLED TV are already in its title, including the ability to display 4K content and Blu-Rays. It also has a 120Hz refresh rate, 3 HDMI ports, and 1 USB port.
This is the new display technology that people are marvelling at when they go to popular retail locations like The Source, Best Buy, and Future Shop. When you see a 4K TV on display, it's hard to not be amazed by the intricate details that you can see on the screen in front of you! It's just that clear and crisp!
You likely heard these things when flatscreen televisions with 1080p resolution were released, and at the time those were some amazing pieces of technology. However, 4K simply blows it away (and naturally it should, since 1080p televisions were introduced more than a decade ago).
If you buy the smaller 50" version of this Seiki LE-55GCL-P 55" 4K Ultra-HD DLED TV at Newegg, it would cost you $679.99. You can actually find this exact 55" Seiki 4K TV on Amazon's American website for $699.99 US (plus shipping). I've listed a brief review of this TV from a satisfied The Source customer below:
TV makes a really good buy in terms of value for money. The bezel is decent looking and is on the slimmer side of things. The picture quality and contrast are actually very good despite the 4000:1 low dynamic contrast advertised. The downside is that one would only be able to play UHD 4k at 30hz. I currently use it regularly as a full HD TV and i'm loving it.
These refurbished product deals at The Source don't usually last very long, since the items are usually out of stock soon afterwards! Check this out while it's still available - happy hunting, Bargainmoosers!
(Expiry: Unknown)