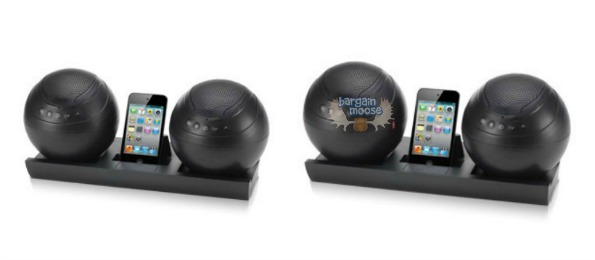 The Source Canada has a great deal happening right now.  You will be able to get their inStudio Rockhampton waterproof rechargeable wireless speakers on sale for 60% off the regular price.
These speakers (#4019099) were priced at $199.99 and are now just $78.88. Even though they are a good price, it is always nice to see some customers reviews before buying to see what you will be getting.
Here are a couple of customer reviews:
This is our 4th purchase of these wireless speakers. We own a pair and enjoyed them so much that we purchased others for family and friends. They sound OK, don't expect much bass but the convenience is excellent. Their range is quite excellent as we use them throughout the house and at various places outside in the yard. Very easy to setup, just plug into the wall power and plug into your music source. I would recommend this to anyone who enjoys taking music with them when they work or play. - Johnny Wii

I bought these speakers today along with the 3 year warranty for 29$. It is an AMAZING product. Loud, Portable, Amazing quality, and the lights on the side are a huge bonus.- WIC Robotics
These speakers are waterproof with IPX7 rating, rechargeable and they're wireless too.  They would be perfect for camping, or to use on your deck.  They would also be great for anyone that has a pool.  You won't have to worry about water getting on them when the kids splash around in the pool.  They can be used with any music playing device with a 3.5mm connection. Included is a 3.5mm cable and an adapter for the transmitter which is a nice little bonus.

As for the cost of shipping, it will be free because they offer free shipping for orders of $20 or more right now.

(Expiry: 10th July 2013)