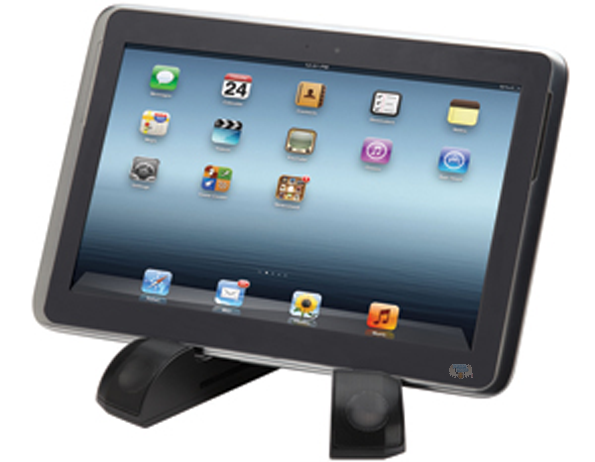 For those that own a tablet or an iPad, this item can be quite the handy accessory. Today's deal at The Source is for an InStudio Bluetooth Tablet Speaker Stand, which normally costs $79.99. At this time, you can get this speaker stand for just $19.96 (plus $4.99 shipping). If you want to save on the shipping costs, you can also arrange to pick up this InStudio Bluetooth Tablet from a The Source location near you - you can select that option while you're placing your order online.
This InStudio Bluetooth Tablet Speaker Stand can help you add some power to the sound of your iPad or tablet with its built-in speakers. It can also be a useful stand for those that love to read on their tablets while they're having a meal. I know I'd find that exceptionally useful!
I have an iPad Mini, and it actually has some great sound that can come out of those speakers. However, when I'm having a workout, I always hook it up to a speaker dock, simply because I want to be able to hear the music or podcast that I'm listening to. The built-in speakers just don't cut it for me when I'm working out, but I think they're just fine when I'm trying to do some work in my home.
With this InStudio Bluetooth Tablet Speaker Stand, since it's easy to carry this small accessory around the house, I can conveniently use the extra speakers that are build into this stand when I want to listen to music on my iPad Mini when I'm doing chores in my home.
The cheapest portable speaker that you can pick up at Best Buy is this Philips Universal Portable Speaker, which costs $19.99. However, it isn't Bluetooth compatible, and it doesn't have a convenient stand like the InStudio Bluetooth Tablet Speaker Stand does.
I've listed a brief review of the InStudio Bluetooth Tablet Speaker Stand from a satisfied The Source customer below:
Handy little stand. Folds up small,making it easy to carry around with you. Bluetooth connects good and it definitely sounds better, and plays louder than my tablet's built-in speakers.
If you have a tablet, you should consider checking out this deal at The Source. Happy hunting, Bargainmoosers!
(Expiry: Unknown)