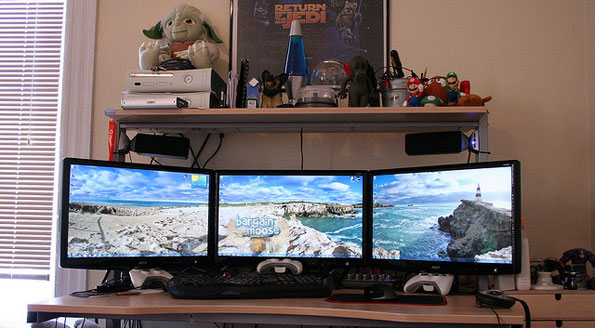 With up to 60% off in discounts to be had, The Source has just launched their Computer Clear-Out sale and among these, I found a great deal on the Acer V225WL 22" LED monitor (open box). It's now on sale for just $59.99 and once the sale is over, will be going back to its original price of $144.96 -- that's a 60% discount ($85 off)!
With a 22" screen, the Acer V225WL LED monitor features a 1680 x 1050 resolution, a 5ms response time and is Energy Star qualified. It also has VGA and DVI ports. Looking around other stores, I found this same monitor for much more expensive everywhere else:
Out of all of these, I only found 2 reviews. The first was posted on Best Buy's site and features 5/5 stars:
This is my first widescreen monitor. Don't know why I didn't get one sooner. Opens up a whole new world!! The picture looks fantastic! Comes with both VGA a.nd DVI cables. The one feature I wish it had would be the ability to turn the power light off while you're using it. Other than that, it gets a 5 from me!
And the other was posted on Future Shop's site and is a 2/5 star review but that's only because the customer didn't realize that this computer monitor doesn't include built-in speakers. No other mention was made as to the performance of the monitor, which leads me to assume that it worked just fine. Personally, I don't have speakers on my own monitor and it's not a feature that I have particularly ever cared for because I much prefer having the speakers apart as these are typically better and are easily replaceable.
The best part about The Source's deal is that you could get 2-3 of these monitors for dual or triple viewing like on the picture above. I, myself, use two screens and although it takes some getting used to at first, it makes working on the computer much easier!
Granted, it's an open box but that's really nothing to be afraid of, especially at that price. Open box items are tested to make sure that they are fully operational, which means that in most cases, you're more than likely getting a perfect product for a fraction of the cost just because of the box. And even if you are to encounter problems, then the products, or in this case, the computer monitor, can be returned to The Source within 30 days.
As usual, there is a $4.99 flat shipping rate but you can choose to have it shipped to your local The Source store for free instead as well.
(Image Credit: Jon B)
(Expiry: 18th November 2014)