This is one of the daily deals from The Source by Circuit City. For today only, you can get this 4 port Nexxtech USB hub for only $12.97!
I think these hubs are very handy, if you're finding yourself running short on USB ports.
Some of the slighty older computers might only have 2 ports on the back, and you can find that awkward. Sometimes there are just too many peripherals for the number of ports you have, so the 4 port could be useful.
On my PC for example, I'm currently making use of the following in my USB ports: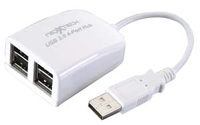 Graphics tablet
Bluetooth transmitter
USB sound card for headphones & mic
USB Gaming keypad
USB cable to monitor (built in hub)
Although I probably am not the norm, but if you're having difficulty with few USB slots, then buy a hub!
If you're ordering online @ The Source by Circuit City, you can pay extra for the shipping. Or just send it to your local store for free collection.