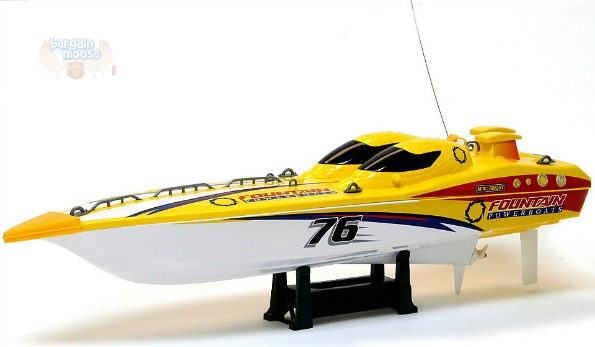 Want to have some additional fun this summer in your pool or on the lake? Save $30 on this New Bright 23" Remote Control Fountain Boat. Originally $69.99, the boat is on sale for $39.99.
The radio controller lets you direct the boat from shore. The fountain boat can go forward, reverse drive, and left/right all at the command of your hands.  The transmitter has a range of up to 100 feet. The boat and controller come with two AA and one 9.6V batteries so you do not need to buy them extra. I looked this boat up on various other websites and some say that the boat also comes with a battery charger, but The Source does not mention that.
One customer asked if you could run two boats at the same time. You can only do this is the boats are on different channels. These kinds of boats come in 27MHZ and 49MHZ. Unfortunately, The Source Canada does not say what frequency this particular boat is on. I also looked around and could not find any details on what frequency this boat runs on.
I did price compare this boat, but it was hard finding it in Canada from anyone but a secondary seller. The cheapest place I found this boat was at Walmart (US) for $50 and it was sold out. Amazon Canada resellers start at $80, and US resellers are worse. Given the other prices I was finding, I figured this was a pretty nice deal and a great gift for any kid who loves water, boats, or just driving things.
This boat is designed for ages eight or more. It is a great little toy for children and adults alike. I remember a relative of mine had a remote control monster truck when I was young, and all I ever wanted (besides his Lego collection) was that monster truck. My obsession in vehicles started young! I loved controlling it and making it go fast, and then do circles, and then chase the dog. I am sure this boat would be a lot of fun as well since I love water. I think it is super cool that it can go backwards, not just forward and turning. It also looks really great.
The Source offers free shipping on orders of $30 or more so this boat will ship for free to your place.
(Expiry: 30th July 2014)