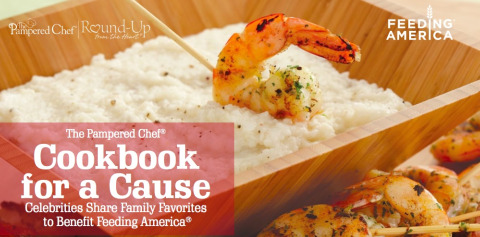 So we usually don't post many downloadable freebies as we see them as a 'sub-freebie' just not as good as something you can get, tangible, in your hands. However, I am a charitable sort of gal and this one goes to feeding people.
For each cookbook downloaded Aug. 1 through Sept. 30, 2010, we'll donate one meal to Feeding America® — up to 140,000 meals! This year, our goal is to donate 10 million pounds of food. By downloading this exclusive cookbook, you play a big part in reaching that goal.

The collection features the personal and family favorites of the hottest celebrities and members of the Feeding America Entertainment Council — Courteney Cox, David Arquette, Mario Batali and more!
I know, Feeding America is a US charity, but part of being Canadian is helping our neighbours. Both countries economies have struggled in the last couple of years and if we can download something free, and by doing that help out someone else: I am all for it. Besides, I now have relatives down there!
This is a small cookbook (12 pages), but with some really nice recipes! I am really stoked about trying out the Creme Brulee French Toast! If you wanna know what's in it, download the cookbook! ;-)