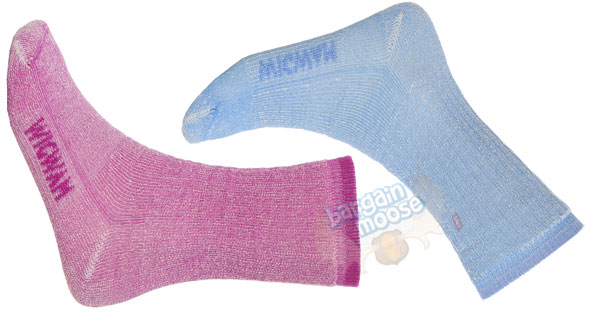 A socks post is definitely an odd choice for a Tuesday morning but hey, when there's a great deal, then it requires posting! Since The Last Hunt is currently offering free shipping on any order with no required minimum purchase, I had a look around and found the Wigwam unisex merino hiker socks on sale for $5.99 (reg. $19.99).
Click here to get the Wigwam unisex merino hiker socks @ TheLastHunt.com now
CouponCode: BIZ
Discount: free shipping
Expires: 21st May 2015
Let me start off by mentioning that not all colours are available and for some of them, only a medium size is left. Below you will find a quick breakdown of everything that's left:
Heathered blue sky - M only
Heathered magenta - M or L
Heather navy - M or L
Heathered purple - M only
Heathered salmon pink - M only
Putty - M or L
Yellow dark putty - M only
Heathered green brown - M only
Heathered grey - M or L
Considering they were originally priced at $19.99 and are now down to just $5.99, that actually puts these babies at a 70% discount, which is pretty amazing! Even better is that while price comparing, I found these same socks at Shoebuy.com for $29.95! They're made from 67% merino wool, 21% stretch nylon, 7% elastic and 5% acrylic. In terms of features, they are fully cushioned, have ventilation channel to allow your feet to breathe and also have an elasticized arch. They're marketed as hiker socks, but really, these would be great for just about any outdoor activity during colder temperatures.
While browsing The Last Hunt's site, I also spotted a number of other great deals such as:
I also found a pretty awesome price reduction on the Bogs kid's rainboots. At Bogs' own website, these typically go for $50, but at The Last Hunt, they're currently on sale for just $24.99 (reg. $49.99). They're 100% waterproof, are lined with Bogs Max-Wick for ultra feet dryness and are lightweight for ultimate puddle jumping. Another cool part about these boots is that they're made with DuraFresh bio-technology, which is designed to keep icky odours at bay.
For more The Last Hunt promo codes, be sure to keep an eye on the Bargainmoose forum.