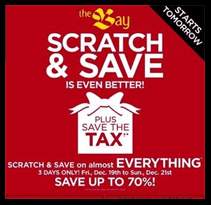 Have you finished your Christmas shopping? I have!?! If you have a few last minute purchases to get, have a think about spending some money in your Local branch of The Bay Canada this weekend.
First up, they're doing a "Scratch and Save" event, offering discounts of up to 70% in-store! If you haven't been to one of these events before, you take your purchases to the checkout, get a free scratch card from the cashier, and your order is discounted by the amount on the card. As ar as I know, you will definitely get a minimum of 10% off your products with this promotion. I doubt that there are very many scratchcards with a 70% discount, but I'd like to think there were at least a few!
Secondly, this weekend The Bay is also running a "Save The Tax" promotion, which makes for even better discounts.
Now, if you are savvy, you can try and see if you can get extra discounts with these deals. Do you have an SPC card? SPC cardholders also get an extra 10% discount off sale prices at TheBay. Alternatively, you can try and use the coupons for extra HBC reward points, such as the 50,000 free points coupon for a $20 spend.
Now, I don't know if these extra promotions will definitely work in conjunction with the main "Scratch & Save" and "Save The Tax" event, but they are definitely worth a try.
P.S. If you get some great deals, it would be great to hear from you in the comments below! Don't be shy!
UPDATE - I just got a better screenshot of the flyer - see it on the HBC web page.