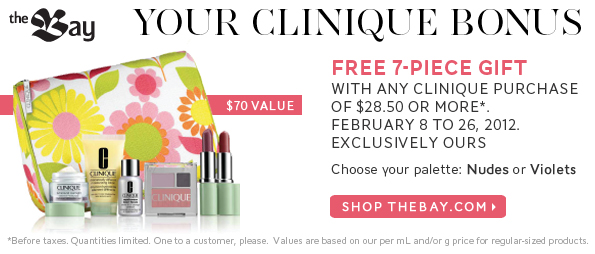 Time to replenish your Clinique stock and pick up a $70 Clinique Bonus when you spend $28.50 or more on Clinique at The Bay Canada, until 26th February, 2012.
The Clinique bonus includes favorites such as Dramatically Different Moisturizing Lotion, Turnaround Overnight Radiance Moisturizer, Repairwear Laser Focus Wrinkle & UV Damage Corrector, a Cosmetic Bag, colour compact, Long Last Lipstick, and Different Lipstick. You can choose your colour palette, from nudes or violets.
Plus get a $25 savings card when you spend $75 or more on Clinique on your HBC card until 12th February, 2012. The $25 Savings Card can be used on your next purchase of $100 or more when you use your HBC card. You can use the card until 26th February, 2012. The Savings Card can't be used on fragrance or cosmetics.
Expires: 26th February, 2012