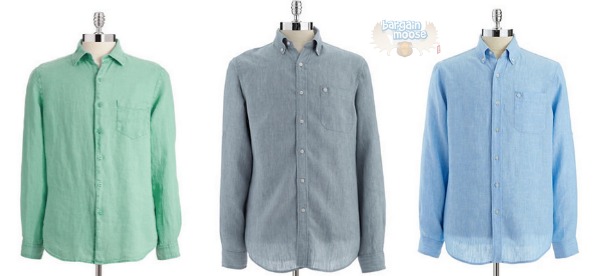 The Bay Canada has a nice deal on men's 100% linen shirts by Black Brown. Originally $44.99 apiece, the shirts are on sale starting at $16.87 and going up from there. There are two different styles; one has a button down collar and a button accent on the front pocket while the other does not.
In the button down collar shirt variety, two colours are on sale for $16.87. The Chambray (bright blue) is available in a size small and large. The Mineral (dull blue) is available in small, medium, and large. In the non-button collar variety, only one colour is available for $16.87. It is a beautiful frog green (I say frog because I have a frog plushy that is the same colour as that shirt).  I showed my husband this deal, and we just ordered one of each of these three shirts. I will be confiscating (or shall I say borrowing without return) the green one because I adore the colour. He bought the purple version of the regular collar linen shirt a few weeks ago and I just adore it. It is so light in the summer heat and makes the ultimate shirt to steal from your boyfriend or husband's wardrobe. So now, I will own both the purple and the green ones.
Other colours are also on sale, just not quite as highly discounted. You can purchase the beige linen shirt with buttoned collar for just $18.56. In the regular collar shirts, you have many choices for the next price point. Pick up a white, pink, cyan blue, or shell coloured shirt for just $18.74. The purple shirt, which I already own, will cost you $23.62 if you want to get your paws on it. It is the loveliest shade of purple. In the button-down collar variety, you can get the rest of the shades including mimosa, coral, or china blue for just $23.62 each. As each of these shirts originally retailed for $44.99, this is a great deal for linen dress shirts. They are perfect for hot days at the office and equally good for the beach. Just role up your sleeves and pair them with shorts and a pair of sandals.
The Bay Canada offers free shipping on orders of $49 or more if you pay with your HBC Card. If you pay with any other currency, receive free shipping on orders of $99 or shipping starts at $5.95. See the rates through this link here.
(Expiry: unknown)