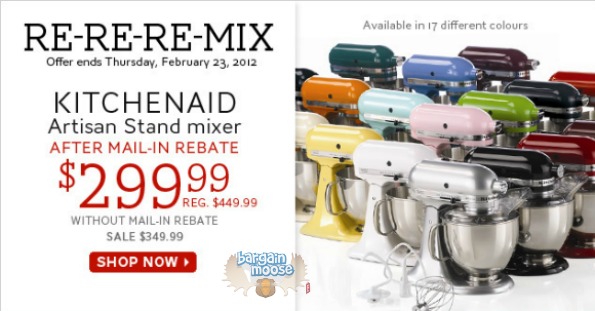 You have until Thursday to pick up a Kitchenaid Artisan Mixer at The Bay for $299.99 after a mail in rebate ($349.99 before rebate).
The Artisan Mixer, regular $449.99, comes in your choice of 17 colours like this beautiful ice blue or boysenberry. All Artisan Stand mixers come with 3 attachments including the coated flat beater, coated dough hook, and wire whip as well as a pouring shield.
You must submit your rebate form by 26th April, 2012 along with a copy of your receipt and the UPC code. You can expect to get your rebate back within 8-12 weeks. Click here for your mail in rebate form.
If you have an HBC card, it's best to use it and you'll be rewarded with free shipping.
Expires: 23rd February, 2012