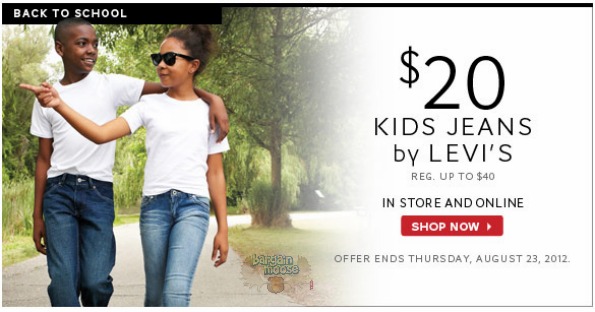 The Bay Canada has a sale on kids jeans by Levi's for $20, in-store and online.  Sale is on select items and offer expires on Thursday, August 23rd 2012.
There couldn't be a better time for a sale on kids jeans.  Probably the most popular clothing item, when going back to school, you can't have enough jeans.  I don't think that has ever changed, at least in the last 30 to 40 years.
These Levi's boys 7 16 Levis slim straight jeans were $40 and are now $20. These are perfect, as they don't fit too tight and they don't look too baggy.  Perhaps the boy you're buying for prefers the relaxed look, like these Levi's boys 2 18 relaxed straight jeans that were $30 and are now $20.  I find that the relaxed jeans seemed to last longer with my sons.
These Levi's girls 7 16 rhinestone pixie jeans were $34 and are now $20.  The jeans are low rise, which I believe is the very in style with young girls and they are lined with silver stitching and rhinestones making them quite attractive.  Another popular style seems to be the Levi's skinny flare jeans that were $35 and are now $20.  These flare under the knee, so they are snug in the right areas.
I just have to mention these little Levi's denim overalls, perfect for the little ones.  These were $30 and are now $22.50.  These look so adorable on little ones and it's such a good price.  You don't want to spend too much as they grow out of them so quickly.
With so many types of jeans on sale for $20, you're bound to find a pair that will suit your child.  It's nice to be able to get the items that they like and will wear and not damage your budget too badly.
Shipping: Free shipping on orders of $45 or more with use of HBC master card or credit card.
(Expiry: 23rd August 2012)