I'm spending Christmas in Las Vegas. A friend is getting married there, so my partner and I just decided to make a trip of it. And I think I will try out the $20 trick in my hotel! Not everyone has heard of the $20 trick, so I'll do a quick blog post to tell you about it.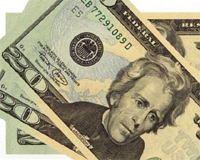 What is the $20 trick?
I hear you ask, what is the $20 trick? The $20 trick is a method of getting free (?) upgrades for your hotel rooms.
How do you do it?
Easy! When you are checking in, slip the desk clerk a $20 bill, and ask "Are there any complementary upgrades available?" If there are upgrade available, hopefully they will keep your tip and give you a "free" hotel upgrade during your stay.
You can also embellish the wording a little bit if you like, and if you have a good excuse. "Would you happen to have any free upgrades available? "Insert name here" and I are celebrating our "insert event here."
Handing over the cash
I've seen tips on the internet of various tactful ways of handing over the $20 bill. You could slip it inside your passport if you are showing that for ID, or you could wrap the money round your credit card, when you are passing that over.
Just make sure the $20 bill is visible while the front desk clerk is allocating your room.
If the clerk doesn't have any room upgrades available, they will more than likely hand you back the money. Even if they keep it and don't give you the room upgrade - you've just lost your first bet in Las Vegas!!
But if you were successful, it's not too shabby if you manage to score a great upgrade for only $20!
Tips:
Don't be shy or embarrassed, the clerks have probably seen this a million times, especially in Las Vegas hotels.
Always be polite and nice, this trick is just a possibility, not a right.
Which hotels will do it?
The $20 trick is most commonly known for being used for Las Vegas hotel upgrades, and is therefore sometimes known as "The Vegas Trick." If you've got a great hotel deal there from following my Priceline Canada tutorial or perhaps from Hotels.ca, then you can try and make the deal a little bit sweeter with the tipping trick.
Perform a quick Google search for the name of your hotel and the $20 trick keywords. You should be able to see if someone has been successful with the method, and has posted about it on the internet. For example, here on Flyertalk, armeee successfully used the $20 trick at the Sahara in Las Vegas.
Most of the successes are reported from the North American hotels. I haven't seen many reports of it working in Canadian hotels, but I reckon you could give it a try in the major cities.
What shall I do…!
I'm going to book a hotel through Priceline's Name Your Own Price feature. When I find out the name, I'm going to do a bit of research and see if there is a good chance of getting a room upgrade with this trick. Although, I am staying for a week, so I might see if I have to turn it into a $50 trick!