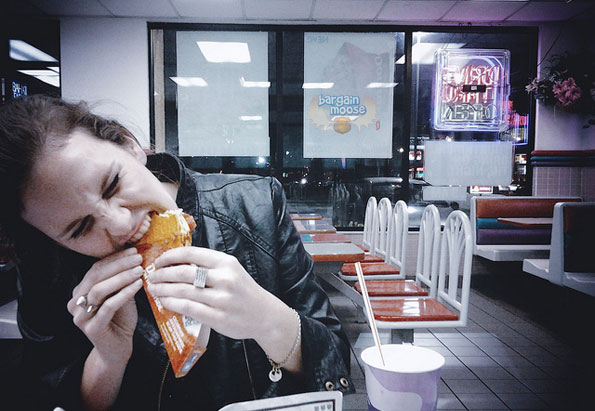 Yummy, yummy in all of our tummies! Taco Bell has released a new printable coupon for a free Doritos Locos Tacos Supreme with purchase of any combo over $5.99.
So what exactly is in a Doritos Locos Tacos Supreme? Premium season beef, lettuce, diced tomatoes, cheddar cheese, sour cream... all within a crunchy Doritos nacho cheese shell. Have I made your mouth water yet? Mine is sure watering from just staring at the picture of the Doritos Locos taco on the coupon.
I haven't tried the Doritos Locos Tacos Supreme yet but I bet it tastes just like nachos would. I know most nacho recipes don't call for ground beef but if you were to make it with the kind of toppings that a recipe would call for, then I'm sure you would get an end product very similar to Taco Bell's taco.
Granted, you still need to purchase a combo valued at $5.99 or more but this is still a pretty cool freebie! Personally, I love getting appetizers and food on the side of my main meal but hate having to pay even more for these. Fast food shouldn't end up costing the same price as a meal in a restaurant with servers would! Alternatively, if you're eating out with a friend, then you could always get one of those combos that could easily feed two and either share or have one person eat the free taco. Of course, you could just print out two coupons as well and each get your own combo but that's not as budget-friendly of an option! :P
I searched Twitter for "Doritos Locos" and on top of there being thousands of tweets about its deliciousness, I also came upon a very interesting fact. According to @WhatTheFFacts, Taco Bell has added 15,000 jobs because of the success behind the Doritos Locos taco. It's pretty amazing that just one menu addition could make all the difference in Taco Bell's employment rate! Whether true or not, it's certainly enticing enough for me to want to try this Doritos taco.
Moosers, have you tried Taco Bell's Doritos Locos Tacos Supreme? Did you like it? Share with us your thoughts in the comments section!
(Image Credit: Jslander)
(Expiry: 31st December 2014)