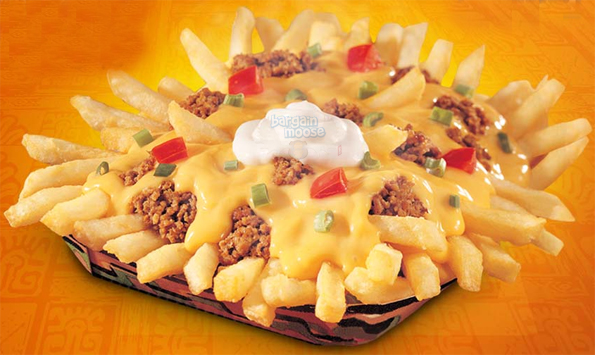 Bargainmooser Kim has emailed me a super sweet deal about Taco Bell Canada. If you click "like" on their Facebook page, you get a coupon for free fries supreme, with the purchase of a soft drink!
You've got to purchase a 20oz Pepsico drink in order to redeem the coupon. They don't state that it is one coupon per person, so as long as you're buying a drink, you'll get the free fries.
Kim went on to tell me:
Oh yeah, so yesterday, my daughter and I tried the coupon and it works, so you could print out like a dozen and use it during that time.  Except I wasn't happy that the drink cost $2.25 but at least the fries supreme was free (sort of), it was really delicious!
I haven't tried the fries supreme, as I'm not the biggest fan of Taco Bell anyway, but I decided to check out the description on the Taco Bell website:
Freshly prepared french fries covered with seasoned ground beef, warm zesty nacho cheese sauce, diced ripe tomatoes, chives and cool sour cream.
That sounds pretty mouth watering, to be honest. And it definitely sounds like a main meal, rather than a side order of fries!
P.S. There have been a ton of great freebies through Facebook lately. I know a lot of people don't use Facebook at all, but it's worth signing up for an account just to get these freebies. You don't have to use your Facebook account or anything, and just set everything to totally private.
(Ends 12th February 2012)