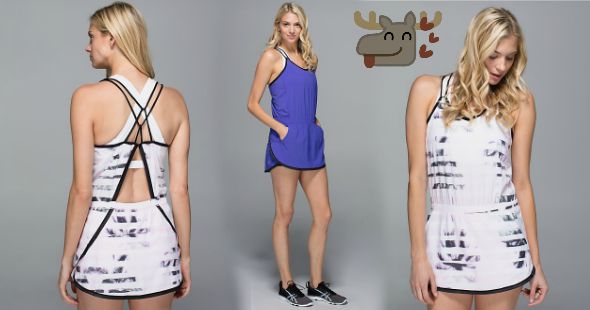 *Bump! The price on this dropped by another $10*
While the name "Sweaty Or Not" doesn't exactly sound appealing, you will be attracted to this Lululemon runsie for two reasons. First off, this runsie is absolutely adorable. Second of all, it is a fabulous price right now. While supplies last, you can snag the Sweaty Or Not Runsie on final sale for just $49, which is quite a drop from the regular price of $98. Lululemon.com offers free shipping with no minimum purchase as well.
This Sweaty Or Not Runsie is a definite addition to my wardrobe now that it is only $49. I mean, I may have even considered it at the regular price which was $98. It comes in two adorable colours, so you could even snag two if you like. You don't have to though, since Lululemon.com offers free shipping with no minimum purchase. The two colours available are Iris Flower and Sunset Stripe Blush Quartz. I honestly prefer the Sunset Stripe Blush Quartz Multi colour (which is the whiter one pictured above) but both would be excellent to wear when it is hot outside. Unfortunately when the price lowered on this adorable runsie, the Sunset Stripe colour was removed from the available options though. You could pair this runsie with sneakers or even dress it up with some flats or heels I would think.
At this point in time all sizes (4, 6, 8 & 10) are available, but who knows how long that will last. What I like about this runsie is that it gives the look of layering, without the extra layers. That means when it is really hot outside you don't have to worry about wearing a tank top underneath or shorts under neath, just pair this Sweaty Or Not Runsie with your favourite bra and away you go.
The Sweaty Or Not Runsie is light and airy because it is made of Lycra Fibre, and the Light Luxtreme Fabric Shorts liner is sweat-wicking and boasts four way stretch. If you don't already jog, you may want to start with this adorable jogging outfit. While it is designed for running, you would probably catch me walking the dogs in something like this. Hiking probably wouldn't even be a problem because the skirt has a full split design which won't restrict your legs at all.
There are quite a few pretty good reviews on this product on the Lululemon Canada website. Customers say it fits better than in the photos and can even be used for sports like tennis and volleyball. So Moosers, did you add this Sweaty Or Not Runsie to your shopping cart?
(Expiry: Unknown)