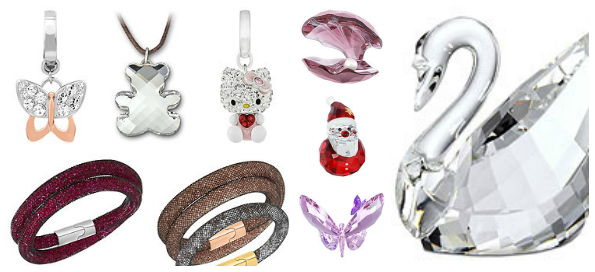 Swarovski Canada has just launched their Boxing Day sale online with 40% off select jewellery, figurines, and more. This is a sale you will not want to miss! Receive a free gift bag and free gift note with every order.
I am a sucker for a beautiful bracelet so imagine my delight when I found these gorgeous Starburst Double Bracelets on sale from $89 down to $53 each. It appears as if all 24-colours are included in the sale. I am most interested in the gorgeous blue bracelet myself. You can also buy the Starburst Single Bracelet for just $41, though it was $69.
I have a charm bracelet, but no charms. It has been this way for nearly seven-years (I know, I am weird). Maybe it is finally time to buy a charge. This Heart Charm is super cute and a great low price. Originally $35, the charm is on sale for $21. I am actually a Hello Kitty fan, and there are plenty of charms designed after her. This Hello Kitty Pink Charm would be my personal favourite. Originally $85, the charm is now on sale for $51.
There are so many sweet ornaments on sale that I hardly know where to start. This delightful Christmas Ornament, Golden Star was $45 and is now on sale for $27. This would be wonderful to buy now and put away for next Christmas. Personally, I would display it throughout the year.
This Christmas Bell Ornament, Annual Edition 2015 is probably one of my favourite ornaments right now. Look, this is a limited edition ornament that you will not find again after it sells out. Originally $100, it is now on sale for $60.
I think this Pearly Oyster, Antique Pink is such a cute little find. I love the pearl in the middle and the aged colouring. Originally $130, this ornament is now $78. I am thinking of this as a ring stand where I can put my favourite ring around the pearl - on display when I need to take it off for washing dishes or showering.
Currently, the Swarovski website is terribly slow - I assume they are getting hit hard right now as Swarovski sales are pretty rare. There are a huge number of items included in this sale too, so there is a little something for everyone. You will receive free shipping as well because Swarovski offers free shipping on $120 or more.
(Expiry: unknown)